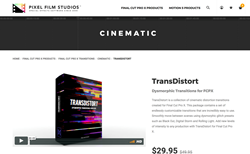 TransDistort is a new Final Cut Pro X Transition that uses glitch presets.
Aliso Viejo, CA (PRWEB) June 15, 2017
TransDistort is a collection of cinematic distortion transitions created for Final Cut Pro X. This package contains a set of endlessly customizable transitions that are incredibly easy to use. Smoothly move between scenes using dysmorphic glitch presets such as Black Out, Digital Storm and Rolling Light. Add new levels of intensity to any production with TransDistort for Final Cut Pro X.
TransDistort comes packed with 15 totally unique dysmorphic styles. Choose from a variety of styles including rolling presets like Rolling Light and Rolling Static or more standard looks like Black Out and Broadcast Distortion. Each preset was specially designed so that users are given the upmost variety in content.
TransDistort contains a set of camera controls to add extra excitement to transitions. Control the depth and amount of camera zoom in each transitions using a series of sliders and position controls. Then, add dynamic handheld looks by adjusting the Camera Shake Controls. Generate new shakes and adjust them using additional sliders.
Finally, users are given access to a slew of awesome effects in each TransDistort preset. Use this series of checkboxes, sliders and dials to create totally unique looks in Final Cut Pro X. Make adjustments to the Waviness, Static, Blur, Roll and Prism controls in seconds using these intuitive controls. Pixel Film Studios makes editing easy in Final Cut Pro X.
Established in 2006, Aliso Viejo, California-based Pixel Film Studios is an innovative developer of visual effects tools for the post-production and broadcast community. Their products are integrated with popular non-linear editing and compositing products from Apple FCPX. Apple, the Apple logo, Mac OS X, and Macintosh are registered trademarks of Apple Inc. in the U.S. and/or other countries. All other trademarks and trade names are the property of their respective owners.