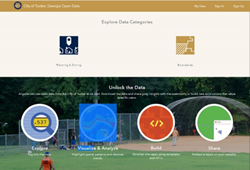 Citizens across the U.S. have long asked for greater transparency and accountability, and Open Data solutions offer a means for cities to meet that goal.
Alpharetta, GA (PRWEB) June 15, 2017
InterDev, an Atlanta-area provider of information technology, security and geographic information (GIS) services, has now completed four municipal GIS deployments using MosaicGIS™, InterDev's secure, cloud-based GIS platform powered by Azure and Esri. In addition, the firm has developed and launched four Open Data Portals—for Atlanta-area cities Decatur, Dunwoody, Sandy Springs and Tucker. Portals are also in development for Chamblee, Georgia and Powder Springs, Georgia.
"GIS has moved well beyond simple mapping to incorporate advanced, open, self-service data access and delivery," said InterDev CEO Gary Nichols. "When GIS and data access are integrated, businesses, citizens and other constituents not only can generate maps on demand; they can also identify and view official city data at a very detailed level and then download it for marketing, research, planning and many other purposes."
One of the GIS-driven Open Data Portals InterDev recently completed was for the City of Tucker, Georgia. It was highlighted earlier this year in an article published by ArcNews. The Open Data Portal—which serves a variety of data ranging from city, parcel and other boundaries to zoning, code enforcement and business licensing—received hundreds of hits the first day it was live.
That portal, and all others InterDev has built for municipalities, were developed with the Esri-hosted ArcGIS Open Data tool, which is especially valuable for clients, such as cities, that serve a varied user base. It enhances usefulness by making vector datasets automatically available for download in a variety of formats—including CSV, the text-only format common with raw databases, KML, which is compatible with Earth browsers such as Google Earth, and shapefile, the core vector data storage format for Esri.
"Citizens across the U.S. have long asked for greater transparency and accountability, and Open Data solutions offer a means for cities to meet that goal," said Nichols. "With platforms like MosaicGIS and ArcGIS Open Data, both of which are efficiently designed and run on an affordable, no-capital-required software as a service (SaaS) model, citizens are deeply empowered, yet the cost doesn't overburden challenged municipal budgets."
About Interdev
Beyond their principal role as strategic provider of Managed IT and Security Services, InterDev is well-known as a champion of IT visioning and innovation for growing businesses and government agencies – a role they perfected over nearly four decades. In addition to managing and hosting IT operations for its valued clients, InterDev also offers MosaicGIS™, a cloud-based, software-as-a-service GIS platform based on Esri, as well as VoIP telecommunications services and circuit solutions. InterDev delivers services to business and municipalities throughout the Southeast and Midwest from their offices in Atlanta, Beaufort (S.C.) and Chicago. For more information, visit http://www.interdev.com.