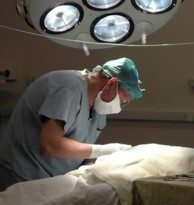 ...a time interval of more than two years were strongly associated with survival.
Raleigh, NC (PRWEB) June 15, 2017
A newly-published report suggests that living longer between cytoreductive surgeries bodes well for survival in patients with peritoneal mesothelioma. Surviving Mesothelioma has just posted an article on the new research. Click here to read it now.
Doctors with the City of Hope Cancer Center and the Wake Forest School of Medicine in North Carolina analyzed the cases of 103 patients with peritoneal surface cancers like malignant mesothelioma who had repeat CRS/HIPEC surgery between 1993 and 2015.
"In multivariate analysis, the R status [a measure of the completeness of the tumor removal] and a time interval of more than two years were strongly associated with survival with each additional month between the surgeries conferring a 2.6 percent reduction in the risk of death," writes study author Ioannis Konstantinidis, MD, a surgeon with City of Hope in Duarte, California.
According to the study in the Journal of Surgical Oncology, among the patients who lived for more than two years before they needed a second surgery, the median overall survival was seven years.
"There is no clear-cut way to decide how much a patient with peritoneal mesothelioma is likely to benefit from a second CRS/HIPEC procedure," says Alex Strauss, Managing Editor for Surviving Mesothelioma. "The information in this study may help mesothelioma patients and their families make more informed decisions about surgery."
For all the details of the new study, see Length of Time Between Surgeries a Marker for Mesothelioma Survival, now available on the Surviving Mesothelioma website.
Konstantinidis, IT, et al, "Interval between cytoreductions as a marker of tumor biology in selecting patients for repeat cytoreductive surgery with hyperthermic intraperitoneal chemotherapy," June 12, 2017, Journal of Surgical Oncology, Epub ahead of print, http://onlinelibrary.wiley.com/doi/10.1002/jso.24703/full
For more than a decade, Surviving Mesothelioma has brought readers the most important and ground-breaking news on the causes, diagnosis and treatment of mesothelioma. All Surviving Mesothelioma news is gathered and reported directly from the peer-reviewed medical literature. Written for patients and their loved ones, Surviving Mesothelioma news helps families make more informed decisions.