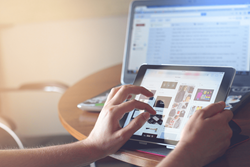 Behind word-of-mouth among Chapelwood members, this was by far our most effective method of advertising the festival!
Houston, Texas (PRWEB) June 15, 2017
Red Iron Marketing, a complete Web marketing agency specializing in Web design, online marketing strategy and SEO for churches and other nonprofit organizations, announces the launch of a new service designed to help nonprofit organizations take advantage of Google Ad Grants and claim their share of free AdWords advertising dollars up to $10,000 per month.
Google AdWords is a powerful way for nonprofits to build brand awareness and share their compelling stories to gain support for their mission and vision. Through the Google Ad Grant program, a philanthropic initiative launched by the technology giant as part of Google for Nonprofits, qualified organizations can apply for and receive up to $10,000 per month in free Google AdWords to run text ads on Google Search, raising their organization's visibility.
Red Iron Marketing has launched a new service to educate nonprofit leaders about the availability of AdWords funding and to help them apply for Google Ad Grants.
"Nonprofit organizations may learn that they can get up to $10,000 in AdWords advertising—completely free—and wonder, 'What's the catch?' There are some daily limits to the ad budget and cost-per-click. But there's no catch. The program fits perfectly with Google's corporate philosophy of serving those who help others," says Toby Dagenhart, president and founder of Red Iron Marketing.
How Nonprofits Can Qualify for $10,000 in AdWords
To qualify, nonprofit organizations in the U.S. must hold valid 501(c)(3) status for a charitable, educational, religious, literary, scientific, or other tax-exempt purpose, and be registered with their local TechSoup organization. Organizations must acknowledge and agree to Google's required certifications regarding nondiscrimination and donation receipt and use. Interested organizations can begin by applying to Google for Nonprofits.
In addition, organizations must have a live website with substantial content. The organization can use that content as the basis for AdWords campaigns, with ads and keywords matching the nonprofit's programs and services.
Furthermore, the AdWords account must be actively managed, with an administrator logging in at least once a month and making one change to the account every 90 days. Organizations are limited to a budget of $329 per day, with a maximum cost-per-click (CPC) of $2, and are not required to spend the entire $10,000 each month—although funds cannot be rolled over.
Red Iron Marketing Helps Nonprofits Spend AdWords Dollars Wisely
Applying is easy, but some nonprofits may not have the staff or time to begin the process. In addition, managing a successful AdWords campaign takes time, knowledge, and staff that nonprofits may not have..
Whatever an organization's level of expertise, whether the nonprofit needs help getting started or would like to take its advertising program deeper to make the most of the grant money, Red Iron's new service is designed to assist. "We want to help nonprofit organizations take advantage of this program—first and foremost, simply by educating them about its existence and, secondly, using our expertise in Web design and search engine marketing to help nonprofits get the most out of Google's in-kind donation," says Dagenhart.
With experts specializing in AdWords, search engine marketing, and Web design, Red Iron Marketing can help nonprofits find the best keywords, create optimized text-based campaigns, and even produce optimized Web pages to help achieve the organization's objectives.
From promotions for local events to calls for donations or volunteers, Google AdWords campaigns can be more effective than traditional advertising channels, including local television and radio ads, store flyers, and local newspaper advertising. "We used Google AdWords text-based search ads heavily to get the word out about our Easter Egg Hunt and Family festival, says Whitney Hall, Special Events Coordinator for Children's Ministries at Chapelwood (TX) United Methodist Church. "Behind word-of-mouth among Chapelwood members, this was by far our most effective method of advertising the festival!"
"If a nonprofit hasn't used AdWords in the past, this opportunity to try it is too good to pass up," says Dagenhart. "Any nonprofit can maximize their ad spend and leverage the platform to its highest capabilities with Google Ad Grants."
About Red Iron Marketing
Based in Houston, Red Iron Marketing is a complete Web design and search engine marketing agency dedicated to helping churches, educational facilities, and nonprofit organizations share their stories, manage their online reputations, and promote their mission and vision using today's technology. Red Iron Marketing offers a full range of services including domain name registration, custom site design and development, website marketing, and fully customized website applications.For more information, visit http://www.redironmarketing.com or email info@redironmarketing.com.
To schedule a media interview or for more details about Red Iron's Google for Nonprofit services or other Web design or Web marketing services, contact Toby Dagenhart, 713-515-2658.