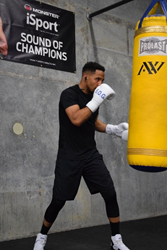 There are days you just don't feel like it and you've got to get your mind in a place where you can focus and keep pushing. It's days like those when I really appreciate the great sound of Monster products
Las Vegas, Nevada (PRWEB) June 15, 2017
Monster®, the world leader in personal audio and fitness headphones, will kick off its "Sound of Champions" campaign with a powerful promotional punch – partnering with Roc Nation Sports and the summer's most anticipated boxing showdown, Andre Ward vs. Sergey Kovalev 2: "The Rematch" Powered by Monster at the Mandalay Bay Events Center in Las Vegas on June 17.
Monster's "Sound of Champions" campaign, aptly named, is making a statement by choosing what will be a legacy championship event in boxing's mecca, Las Vegas, alongside the fight card's biggest stars. The campaign also features Super Bantamweight World Champion Guillermo "El Chacal" Rigondeaux and USBA Middleweight Champion Luis "Cuba" Arias, who are respectively set to defend their belts on June 17. In addition, Monster has come onboard as the presenting partner of Ward-Kovalev 2's Fight Week, Powering its schedule of events.
The campaign is part of a new, continuing Monster "Sound of…" series, which will focus on how athletes use music as an inspirational tool during workouts, and how they look to Monster to provide the powerful sound they need to excel. Ward, Rigondeaux and Arias, who are all passionate and vocal proponents of Monster audio products, regularly train with Monster gear to get the powerful sound they need to achieve their best.
Monster's rugged, sweat-proof iSport® Headphones, for instance, are a constant workout partner for Ward during his most strenuous workouts. Their powerful audio technologies provide all the musical punch he needs to stay focused and motivated while training. In addition to the iSport headphones, Ward spars to his favorite tunes while enjoying the sound of the critically acclaimed Monster Blaster Bluetooth speaker.
"Some people think that athletes always want to be in the gym working out but it's not true," said Ward. "There are days you just don't feel like it and you've got to get your mind in a place where you can focus and keep pushing. It's days like those when I really appreciate the great sound of Monster products. With Monster headphones, you're in the zone. The music pumps you up to work harder and it really changes your mood. All my music comes through loud and clear, with the power and volume I need."
Head Monster Noel Lee noted, "Ward's love and support for our Monster music products proves that The Sound of Champions is truly the Sound of Monster, and we're thrilled to be in his corner 100%. Like how boxing champions like Andre Ward work tirelessly to continue refining and improving their skill, everyone at Monster works day in and day out to continuously improve and further our sound so that music fans of all genres can enjoy the very best experience."
"We always refer to Las Vegas as the home of boxing champions. All of the greats have come through there. On June 17, Monster will be behind three champions in Andre Ward, Guillermo Rigondeaux and Luis Arias, as they defend their titles on boxing's biggest stage in Las Vegas. This is the perfect convergence of elements for the 'Sounds of Champions" campaign—an extraordinary relevant fight and family of fighters to really leverage a state-of-the-art brand," said Michael Yormark, Roc Nation President & Chief of Branding and Strategy.
Follow this link for videos of Andre Ward and Noel Lee speaking about the value of Monster Sound for athletes.
The iSport Concept: Headphones as Fitness Gear
Monster launched its first critically-acclaimed iSport™ fitness headphone six years ago, based on the bold concept that headphones are as important as any other fitness gear – such as apparel, sneakers, helmets, goggles, etc. All iSport fitness headphones are sweat-proof and washable and feature a durable, shock proof design and right angle connectors to improve durability. Recognizing that ear shapes vary greatly, Monster engineered three separate sizes of ear-tips and created patented SportClip ear hooks that keep the headphones comfortable and secure, even during high intensity movement. The iSport line includes models with differing sound isolation properties, allowing athletes to be aware of their surroundings to their optimal preference.
The Monster Blaster: Bringing Back the Shared Music Experience
The Monster Blaster, a reimagined boom box for the 21st century, brings back the social aspect of sharing music and listening together. In a gym, it can motivate and inspire everyone working out in a powerful shared experience. Thanks to its unique V Sound cabinet shape design and PowerBass, The Blaster delivers unmatched audio power for a speaker its size, giving music lovers a versatile option for enjoying the very best sound from all genres of music. Whether you prefer the sounds of modern rock, Hip Hop or EDM, the Blaster provides a listening experience suited to that music style.
Ward vs. Kovalev 2: "The Rematch," a 12-round mega-fight for the WBO/IBF/WBA Light Heavyweight World Championships is presented by Roc Nation Sports, Main Events, Andre Ward Promotions, Krusher Promotions and Corona Extra, sponsored by Mandalay Bay Resort and Casino, and Powered by Monster. The championship event will be produced and distributed live by HBO Pay-Per-View® beginning at 9:00 p.m. ET/6:00 p.m. PT. Follow the conversation using #WardKovalev.
# # #
ABOUT MONSTER
For the past 37 years, Monster® has been a catalyst for innovation and big ideas. Discovering that cables in hi-fi systems influenced the sound, Head Monster Noel Lee developed Monster Cable - an immediate hit. Monster® engineered the sound of Beats® headphones, and has since become the world's leading manufacturer of high-performance headphones, all featuring Pure Monster Sound™ technology. Monster offers headphones for every lifestyle. Its critically-acclaimed iSport headphones are used by athletes globally and its wireless Elements line by musicians, DJs and music lovers. Today, the company offers advanced connectivity solutions for professional musicians, home entertainment, computing, mobile and gaming, as well as high performance AC Power and conditioning products. Monster® continues to lead in innovation with Monster having been granted over 500 Patents and 100 patents pending worldwide, offering more than 5,000 products in over 160 countries. Monster® also prides itself in helping those who are in less-than-fortunate circumstances through Monster Cares. Above all, Monster® does what it does Because the Music Matters.
Explore the world of Monster at http://www.monsterproducts.com. To become a fan of Monster® products, please follow us on Facebook (http://www.facebook.com/monsterproducts) or Twitter (http://www.twitter.com/monsterproducts).
Trademarks and brands are the property of their respective owners.
ABOUT ROC NATION SPORTS
Roc Nation Sports, a sub-division of Roc Nation, launched in spring 2013. Founder Shawn "JAY Z" Carter's love of sports led to the natural formation of Roc Nations Sports, supporting athletes in the same way Roc Nation has been working alongside and advocating for artists in the music industry for years. Roc Nation Sports focuses on elevating athletes' career on a global scale both on and off the field. Roc Nation Sports conceptualizes and executes marketing and endorsement deals, community outreach, charitable tie-ins, media relations and brand strategy. Roc Nation Sports launched its boxing division, a full service promotional company which represents Unified Light Heavyweight World Champion Andre Ward, in August 2014. Roc Nation Sports' roster includes premiere athletes such as Robinson Cano, Skylar Diggins, Kevin Durant, Geno Smith, Victor Cruz, CC Sabathia, James Young, Dez Bryant, Ndamukong Suh, Rusney Castillo, Yoenis Cespedes, Jaelen Strong, Todd Gurley, Erick Aybar, Justise Winslow, Willie Cauley-Stein, Jerome Boateng, Miguel Sano, CJ Prosise, Ronnie Stanley, Henry Ellenson, Caris LeVert, Mike Gbinije, Melvin Ingram, Rudy Gay, Ty Lawson, Leonard Fournette, Juju-Smith-Schuster, Isaac Rochell, Josh Hart and Dwayne Bacon.