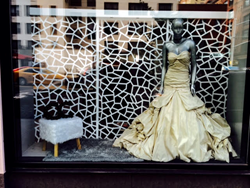 Have been going over to Cameo for a few years now. Hands down the best experience - be it shirts, suits or the wife's' fur and leather goods. Always impressed and a very friendly environment. Highly recommended!
New York, NY (PRWEB) June 20, 2017
Cameo Cleaners, trusted for over 60 years as one of the best dry cleaners in New York City, today shared that summer months are a good time to focus on the care of white clothing and related items. One of New York's premier couture dry cleaning and garment care services, Cameo Cleaners has extensive, proven expertise in the cleaning of white dresses, white shirts, table clothes, napkins and more.
"Summer is the season to look fabulous in white, but whites, as we know, are so easily stained," said a spokesperson for the company. "Whites are also difficult to clean without damaging the fabric. We solve this problem for you, with hand cleaning services and ultra-careful focus on valuable garments and heirlooms."
Cameo also offers free pick-up and delivery on shirt cleaning for busy New Yorkers. "New Yorkers tend to go through a lot of shirts in the summer," the spokesperson added. "It can't be helped, but at least now you can get the convenience of our efficient and free pick-up and delivery services on keeping your shirts clean."
The flagship store for Cameo Cleaners is situated at 280 Third Avenue, near 23rd Street. In this facility, the Cameo team can handle almost any type of cleaning. Services include leather cleaning and repair, cleaning and preservation of bridal gowns, cleaning full beaded gowns by hand and more. They also provide care for accessories and handbags, fur glazing, garment restoration, cleaning of delicate interior fabrics such as curtains and Oriental rugs, bed linens and tablecloths.
Cameo has served its customers continuously since 1958. The company is trusted by such world-class organizations as the Metropolitan Opera, Fashion Institute of Technology (FIT) and the Cooper Hewitt Museum.
For more information, visit http://cameocleaners.com.
Cameo Cleaners
280 Third Ave
New York, NY, 10010, USA
+1 (212) 677-3949