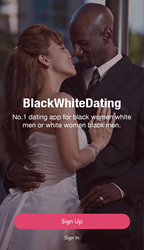 interracial dating - Love me, Love my color
Los Angeles California (PRWEB) June 17, 2017
The Loving Way
Mildred and Richard Loving didn't intend to make history when they married each other, but when they were each sent to a year in prison for violating a law that prohibited black and white marriage, their appeal to the US Supreme Court unanimously determined the prohibition of interracial marriage was unconstitutional. The year was 1967 and the landmark decision is commemorated on June 12 as Loving Day.
Because of the courage and determination of early civil rights activists, we now have a thriving community of black, white and mixed race marriages. Each year, we've seen a climb in interracial dating. Sixty-five percent of the US population state they are not opposed to bi-racial marriages. Over half of the youth population state they have dated or had an ongoing relationship with someone outside their race.
Respect for Privacy
We've come a long ways, but black and white dating still comes with some handicaps. Family and friends may feel uncomfortable with "one of their own" dating "one of them". There can be misunderstandings in communications or major cultural differences. There may be a broad acceptance of interracial dating, but the demographics don't present a real opportunity.
The mobile device app, which can be downloaded through iTunes for iPhones and iPads, gives the user complete privacy for creating a profile and downloading a photo for membership. Registration is free, and membership only $9.99 a month, with discounts for three or six month subscriptions.
How it Works
Speed dating isn't a problem when you download the Black White Singles dating app. The user friendly interface allows you to scroll down quickly and swipe yes or no for members. When two members say "yes" to each other, the dating connection begins.
How seriously you wish to develop a long term relationship is entirely up to you. The Black White Dating company has fifteen years of experience in helping couples find their right match and knows how to match your profile to your personal preferences.
The Best Rewards
The most rewarding relationship is a loving one and the Black White Singles app was designed essentially for people who love. The social networking platform gives you real-time communications with other members and a chance to develop meaningful relationships. It gives you privacy in your communications. It allows you to connect with your heart's desire anywhere there is Internet access. Easy to download, with a smooth interface users find exciting, this interracial dating app is the perfect way to commemorate Loving Day.