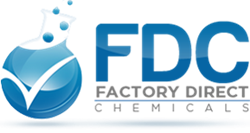 New York, New York (PRWEB) June 21, 2017
The team at Factory Direct Chemicals is proud to announce it's latest product, Dust Down Pro, a solution that keeps dust down on unpaved roads. This product improves safety by reducing any visual obstruction for drivers and farmers.
This solution also reduces the damages of vehicles. It helps in producing a cleaner air environment by keeping dust on the ground where it belongs preventing drivers from inhaling any sooty air.
Factory Direct Chemicals offers this product in two forms: chloride pellets and in a liquid concentrated formula.
The chloride pellets are 96% pure calcium, an element that has been used to control the dust and gravel on unpaved roadways for centuries. Dust Down Pro's 96% Pure Calcium Chloride Pellets can be spread directly on the road or dissolved as a liquid solution by mixing it with water.
The liquid concentrated formula, also referred to as the Dust Down Pro Water Wetter, is strong enough to cover miles of land. One gallon can expand up to 100 - 200 gallons when it is properly mixed with water depending on how concentrated the user prefers the solution to be. This option will leave behind a biodegradable, non-corrosive residue that will keep dust compacted into the ground. This residue will allow water to soak into the ground instead of pooling up into muddy roadways.
In addition to keeping the roads visibly safe, Dust Down Pro is also a money saver when it comes to reducing the expense of road maintenance. This is the perfect product solution for farms, fairgrounds, alleyways, and properties with winding roads and long driveways.