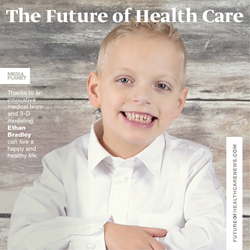 As the number of Americans with complex diagnoses continues to climb, technological advancements offer us a more promising glimpse of the future.
New York, NY (PRWEB) June 15, 2017
Today, Mediaplanet announces the launch of "The Future of Health Care," partnering with industry leaders to spread awareness about the exciting advancements in the field that promise countless benefits to both patients and professionals.
As the number of Americans with complex diagnoses continues to climb, technological advancements offer us a more promising glimpse of the future. Personal tech devices can help manage conditions like diabetes and encourage patients to play a more active role in their health and wellness. As technology brings care into the home, a debate is being waged in the health care industry over fee-for-service versus value-based care. In the years to come, this debate could impact the cost of doctor's visits, prescription drugs and long-term care across the spectrum, from baby boomers to millennials.
The print component of "The Future of Health Care" is distributed within USA Today, with a circulation of approximately 250,000 and an estimated readership of 750,000. The digital component is distributed nationally, through a vast social media strategy, and across a network of top news sites and partner outlets. To explore the digital version of the campaign, click here.
Nine-year-old Ethan Bradley graces the cover of the print publication. Dr. Hani Najm, Chair of Pediatric and Congenital Heart Surgery at Cleveland Clinic, shares the remarkable story of how he and the other members of Ethan's medical team created a 3-D replica of his heart in order to prepare for an innovative surgery that would change the boy's life. "It makes me so happy to know he can now live life the way he should be able to," says Ethan's mom Katrina. Inside the issue, the Association of American Medical Instrumentation dives in on the group effort to create a more safe and accessible health care system. On the digital platform, readers can learn more about what to look for in technological advancements with virtual doctor visits, e-prescribing and more.
This campaign was made possible with the support of the Association of Medical Instrumentation, Blink Health, Tactio Health, Zimmer Biomet, CaseNet LLC, Greyhealth Group, Norton Audubon Hospital, Privis Health, Xenex, Cleveland Clinic, the Bradley Family and many more.
About Mediaplanet 
Mediaplanet specializes in the creation of content marketing campaigns covering a variety of industries. We tell meaningful stories that educate our audience and position our clients as solution providers. Our unique ability to pair the right leaders with the right readers, through the right platforms, has made Mediaplanet a global content marketing powerhouse. Our award-winning stories have won the hearts of countless readers while serving as a valuable platform for brands and their missions. Just call us storytellers with a purpose. Please visit http://www.mediaplanet.com for more on who we are and what we do.
Press Contact:
Madeline Heckman 
madeline.heckman(at)mediaplanet(dot)com