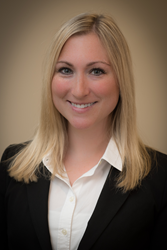 PHILADELPHIA (PRWEB) June 15, 2017
The national law firm Chamberlain, Hrdlicka, White, Williams & Aughtry is pleased to announce that Jennifer Weidler Karpchuk has been promoted to Senior Counsel.
Karpchuk, who has been named a Pennsylvania Rising Star for high-achieving young attorneys in both 2016 and 2017, has continually excelled in her time with Chamberlain Hrdlicka.
"Jennifer has been a tremendous asset to the firm and to our clients," said Chamberlain Hrdlicka SALT Practice Chair Stewart Weintraub. "Her professionalism, knowledge and ability to relate to her clients are just a few of her strengths. She has earned her promotion through hard work and a consistent desire to hone her legal skills every day."
Karpchuk represents clients in various matters related to state and local taxation. Her clients include those challenging audit determinations and real estate assessment decisions, seeking refunds from state and local governments, handling administrative appeals, litigating unresolved disputes in state and local courts, and handling post-trial appeals.
Karpchuk is a co-author of the Pennsylvania Tax Handbook, as well as the Pennsylvania chapter of the American Bar Association Tax Section State and Local Tax Committee Property Tax Deskbook. She is a frequent contributor to the firm's SALT blog, as well as State Tax Notes.
She received her bachelor's from the University of Delaware and her Juris Doctor from Temple University School of Law.
About Chamberlain Hrdlicka – Chamberlain Hrdlicka is a diversified business law firm with offices in Houston, Atlanta, Philadelphia and San Antonio. The firm represents both public and private companies as well as individuals and family-owned businesses across the nation in a wide variety of practice areas, including commercial and business litigation, tax, tax controversy and litigation, federal white-collar criminal defense, corporate, securities and finance, employment law and employee benefits, energy law, estate planning and administration, intellectual property, international and immigration law, and real estate and construction law.
# # #