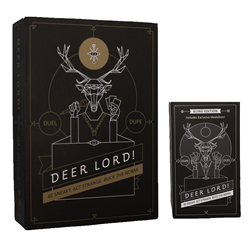 "Be sure to check this one out." - BoardGameGeek.com
Atlanta, Georgia (PRWEB) June 30, 2017
Game developers, Lark & Clam, have announced that the hit European indie card game, Deer Lord!, is being brought into broad distribution this July.
Deer Lord! is a Social Party Game where players challenge each other to wacky "Duels" or attempt to "Dupe" each other by getting away with outrageous social actions unnoticed. This creates an utterly unique gaming experience that has taken early adopting Party Game fans by storm.
Deer Lord! flourished as an independent game and now will be broadly available through two simultaneous revised and updated editions.
The revised Deer Lord will be available through Target retail stores starting July 30, 2017. This run of the game is comprised of core Deer Lord! card set as well as the "Broadway" and "Gangsta" expansion sets.
Additionally, we are extremely excited to announce the Bling Edition exclusive to Hobby Retailers available July 26. This edition includes the core Deer Lord! card set as well as the "Geek" and "Asylum" expansion sets. This set also includes a collectible medallion not available in other channels.
Lark & Clam is a maker of fine board games, card games, and curios located in Atlanta, Georgia. The company was created by an eclectic mix of talented veterans of a variety of entertainment industry business. Many of the founders of Lark & Clam have a shared history in the original White Wolf Publishing. Additionally, the company boasts talent from the Cartoon Network and Adult Swim television networks.
Lark & Clam's mission is to bring fun to play, easy to learn "party games" to a wider audience. Lark & Clam believes that face-to-face engagement is a basic human need and that quick and fun games are an important part of life.
New information on Deer Lord! will be updated at https://www.larkandclam.com/deerlord.
MSRP $19.99.
4 to 8 players.
12+ yrs.
For more interviews or more information, please contact info(at)LarkAndClam(dot)com