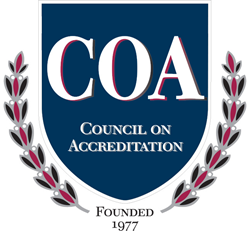 The TRICARE rule enables our high performing accredited organizations to treat service members and their families. In recognizing COA, TRICARE, has taken an important step towards allowing providers with more accreditor options.
New York, NY (PRWEB) June 16, 2017
The Department of Defense has published the TRICARE Manual, acknowledging the Council on Accreditation (COA) as an approved accreditor for providers of behavioral health services to service members and their families. The TRICARE Rule, titled TRICARE: Mental Health and Substance Abuse, was published September 2, 2016, and expands coverage of mental health and substance use disorder benefits. The TRICARE Rule also develops reimbursement processes for mental health and substance use disorder intensive outpatient programs and opioid treatment programs. The rule ensures more clients are able to receive the assistance they need.
Richard Klarberg, President & CEO of COA said, "COA is extremely pleased that our accredited organizations will be able to provide excellent treatment to service members and their families. Additionally, in recognizing COA, TRICARE has taken an important step towards allowing provider organizations with more accreditor options."
Pat Johnston, Executive Director of the National Association for Children's Behavioral Health noted that, "The updates to TRICARE's behavioral health services offer tremendous opportunities to support military families' health and readiness. Coverage of new treatment settings and implementation of parity with physical health benefits will be extremely beneficial for military families. Broader recognition of national accreditors ensures that professional and clinical standards will be continually updated. NACBH is pleased to see that COA accreditation has been approved by the Department of Defense for TRICARE-participating providers."
Joel Johnson, President and CEO of Human Resources Development, Inc., said, "As a COA-accredited organization, HRDI is looking forward to providing Behavioral Health services to military families under the revised TRICARE Rule. TRICARE's expansion of coverage for mental health and substance use disorders will enable our organization to provide high quality care to service members and their families."
Please visit the Federal Register to view the TRICARE RULE. The Tricare Manual is available here, which includes the changes to the Rule and the reference to COA, located in the 'Published Paper Change' section.
Organizations that are interested in accreditation due to this expansion of recognition may contact Zoë Hutchinson, Director of Business Development, by phone at 212.797.3000 ext. 242 or by email at zhutchinson(at)coanet.org, to learn more about the benefits of COA accreditation.
ABOUT COA
Founded in 1977, COA is a nonprofit accrediting body of over 2,200 behavioral health and social service organizations and programs in the US and Canada. In partnership with the human services field, COA researches and publishes best practice standards and engages organizations and programs in a comprehensive review with the goal of strengthening and improving their capacity, administration and management functions and service delivery. Standards are available free and online at http://www.COAnet.org.
Connect with us on Facebook
Follow us on Twitter
Find us on LinkedIn