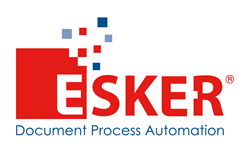 With our AP automation solution, we strive to bring organizations around the world greater efficiency, accuracy, visibility and cost savings
Middleton, Wis. (PRWEB) June 16, 2017
Esker, a worldwide leader in document process automation solutions and pioneer in cloud computing, today announced that its accounts payable (AP) automation solution was named a 2017 SIIA CODiE Awards finalist in the Business Financial Management Solution category. Finalists represent the best products, technologies, and services in software, information and business technology.
Esker's Accounts Payable on Demand solution streamlines AP processes such as verifying and entering vendor invoices, and obtaining approval with electronic workflow capabilities. With AP automation, companies can reduce invoice processing costs by as much as 60 percent, and receive and enter invoices up to 65 percent faster. AP departments can also better manage cash flow and generate new revenue by:

Taking advantage of vendor discounts
Bypassing long reconciliation and payment cycles
Avoiding late penalties
Organizations not only save time and costs but improve supplier relationships and vendor invoice processing by:

Delivering spend visibility from beginning to end
Providing ERP-independent workflows
Eliminating human intervention via touchless invoice processing
Processing multi-nation invoices in 120+ languages
Supporting global initiatives with locally deployed solutions
Ensuring accurate data capture regardless of invoice format
The SIIA CODiE Awards are the premier awards for the software and information industries, and have been recognizing product excellence for more than 30 years. The awards offer 93 categories that are organized by industry focus of education technology and business technology. Esker's Accounts Payable on Demand solution was honored as one of 205 finalists across the 59 business technology categories.
"I am impressed by the level of innovation and creativity of the products that have been selected as this year's CODiE Award finalists. We are happy to recognize these products and the power they have to transform the future of how we do business," said Ken Wasch, president of SIIA.
"Esker was the first to offer 100-percent cloud-based solutions, helping businesses optimize financial management and supply chain performance," said Steve Smith, U.S. chief operating officer at Esker. "To be nominated as a finalist for the Business Financial Management Solution validates our success as a pioneer in cloud computing and leader in document process automation. With our AP automation solution, we strive to bring organizations around the world greater efficiency, accuracy, visibility and cost savings."
The SIIA CODiE Awards are the industry's only peer-recognized awards program. Business technology leaders, including senior executives, analysts, media, consultants and investors, evaluate assigned products during the first-round review which determines the finalists. SIIA members then vote on the finalist products, and the scores from both rounds are tabulated to select the winners. Winners will be announced during the CODiE Award Business Technology Winner Announcement & Celebration, July 25 in San Francisco. Details about each finalist are listed at http://www.siia.net/codie/Finalists.
About Esker
Esker is a worldwide leader in cloud-based document process automation software. Esker solutions, including the acquisition of the TermSync accounts receivable solution in 2015, help organizations of all sizes to improve efficiencies, accuracy, visibility and costs associated with business processes. Esker provides on-demand and on-premises software to automate accounts payable, order processing, accounts receivable, purchasing and more.
Founded in 1985, Esker operates in North America, Latin America, Europe and Asia Pacific with global headquarters in Lyon, France and U.S. headquarters in Madison, Wisconsin. In 2016, Esker generated 66 million euros in total sales revenue. For more information on Esker and its solutions, visit http://www.esker.com. Follow Esker on Twitter @EskerInc and join the conversation on the Esker blog at blog.esker.com.