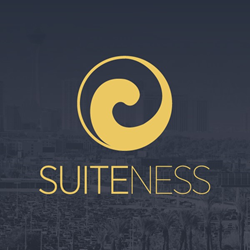 We truly look forward to offering our members the one-of-a-kind luxury experience that Viceroy provides while further simplifying the process of providing online access to multi-room accommodations for families and group vacationers.
OAKLAND, California (PRWEB) June 15, 2017
Suiteness, a members-only site that connects luxury travelers with suites at high-end hotels, has announced a partnership with Viceroy Hotel Group, a leader in modern luxury hospitality, to integrate some of their most exclusive and lavish suites from hotels in key markets such as Los Angeles, New York and San Francisco, into Suiteness' online booking platform. Suiteness members now have online access to suites in some of Viceroy's most esteemed and lauded properties, including Viceroy L'Ermitage Beverly Hills, Viceroy Central Park New York, Hotel Zeppelin and Hotel Zelos.
This new partnership with Viceroy marks one of many valuable collaborations among Suiteness' 200+ international hotel partners spread across eight markets.
"We are extremely proud to announce our partnership with Viceroy Hotel Group," said Robbie Bhathal, CEO of Suiteness. "Modern accommodations and impeccable service create the signature vibe at Viceroy, which makes them a perfect fit for Suiteness. We truly look forward to offering our members the one-of-a-kind luxury experience that Viceroy provides while further simplifying the process of providing online access to multi-room accommodations for families and group vacationers."
For Viceroy, Suiteness allows for a dedicated platform that showcases their top, most unique suites and amenities, which may be overlooked in a mix of rooms and accommodation types offered on other websites. "Partnering with Suiteness offers us direct access to our target Viceroy guest, while also making it simple and convenient to book their stay," said Nicholas A. Monteleone, Vice President of Sales & Revenue, Americas at Viceroy Hotel Group.
In the less than two years since its 2015 launch in Las Vegas, this Y Combinator graduate has seen growth at rapid rates, receiving 1 new member every 3 minutes. An expansion into San Francisco marks its most recent market launch, with many more scheduled for 2017. This follows a $5 million Series A co-led by Bullpen Capital & Global Founders Capital with participation from HVF (the personal fund of Max Levchin, Co-Founder of PayPal, Y Combinator's Continuity Fund, Kima Ventures, Altair Capital and other prominent investors.
About Suiteness
Suiteness is the first online booking platform that allows users to access an inventory of thousands of exclusive luxury hotel suites. Suites range from standard one-bedrooms to spacious apartment-style stays with multiple attached rooms. The company is carving a niche for itself in the international travel industry as the leading website dedicated solely to luxury suites and is finding success with group travelers and families looking for a nice place to stay together.
Suiteness was launched in 2015, with funding and support from investors including Y Combinator, Structure Capital and Keystone Capital. The platform currently has access to over 30,000 luxury suites in Las Vegas, Miami, Los Angeles, New York, Orlando Chicago, London, and San Francisco. The company is expanding its suite inventory rapidly in key markets across the world.
For more information on Suiteness, please visit http://www.suiteness.com.
About Viceroy Hotel Group
Viceroy Hotel Group inspires travelers with one-of-a-kind authentic lifestyle experiences that bring together provocative design and intuitive service in sought-after locations. A leader in modern luxury, Viceroy's vibe-led hospitality is guided by the brand promise "Remember to Live," an affirmation to create lifelong memories for each and every guest. Viceroy destinations are segmented into three distinct portfolio tiers to help travelers find exactly the kind of experience they're looking for. The Viceroy Icon Collection properties include epic hotels and resorts in Dubai, Abu Dhabi, Beverly Hills, Riviera Maya, Snowmass, and St. Lucia, with forthcoming openings in Chicago, Algarve, Buenos Aires, Istanbul, Panama, Cartagena, and Vietnam. The Viceroy Lifestyle Series hotels and resorts are found in attitude-led destinations including New York, Santa Monica, and Zihuatanejo with a forthcoming opening in Serbia. The Urban Retreat Collection properties in San Francisco and New York have an independent spirit and bold, eccentric personalities. Viceroy Hotel Group is a member of the Global Hotel Alliance (GHA) DISCOVERY, a unique loyalty program offering exclusive benefits and experiences to its members at over 550 hotels around the world. For more information, visit http://www.viceroyhotelsandresorts.com. Follow Viceroy Hotel Group at facebook.com/viceroyhotelgroup and on Instagram and Twitter @viceroyhotels.
Media Contact:
5W Public Relations
Melissa Brown
mebrown(at)5wpr(dot)com
646-843-1818