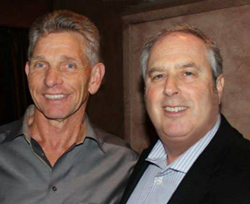 Join us for an evening of financial information and endless apps. Bring a friend or two!
(PRWEB) July 06, 2017
The event will be held on July 27th, 2017 from 5:30 pm until 7:00 pm at Prosperity's First Floor conference Room at 2333 San Ramon Valley Blvd., San Ramon, CA 94583. Endless appetizers will be served.
The event will feature special guest speaker Brian Carlson, Vice President of Jackson National Life. Jackson is one of the leading providers of annuities and other financial products.
Brian Carlson is responsible for sales and marketing of variable annuities in the San Francisco Bay area, Brian is a first resource for his advisors, partnering with them to take their businesses to the next level. Brian joined Jackson in December 2005 as a Sales Support Specialist taking inbound calls from representatives. He was soon promoted to the position of Internal Wholesaler where he covered fixed products in North Florida territory before changing his focus to variable annuities. Brian then served as National Sales director from December 2007 until august 2008.
One aspect of the job that Brian particularly likes is the opportunity to meet new people and help them grow their portfolios. He enjoys the one-on-one meetings and the relationships that result. He actively supports business building by working with the Retirement and Wealth Strategies Group and the Portfolio Strategist Group.
In addition to earning the dual degrees of Bachelor of Science in Marketing and International Business and General management from the University of Kansas and Kansas State University, Brian holds FINRA Series 7, 6, 63 and 26 registrations, and has a Life and Health license. He is a sponsor of the National Association of Insurance and Financial Advisors (NAIFA) and the Financial Planning Association (FPA). He also served on the Elite Accessory Council in 2013 and the Jackson Leaders Council in 2015.
Brian lives in Danville, California with his wife and two daughters. He enjoys sports, movies, spending time with his family and, as a volunteer for ARF (Tony Larruso's Animal Rescue Foundation), Brian fosters rescued dogs on a regular basis.
For more information please contact Yvette Mays at 925.314.8500 or register online here.