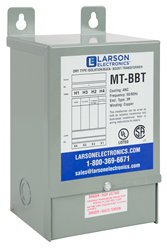 These buck and boost transformers use lower heat emissions and energy, allowing our customers to benefit from lower monthly energy bills.
Kemp, TX (PRWEB) June 16, 2017
Larson Electronics LLC, a leading industrial lighting company, announced the release of a new line up of buck and boost transformers to be added to its expanding catalog of products this week. These transformers are machine components designed to increase (boost) or decrease (buck) line voltage to meet certain power requirements.
Each one of these buck and boost transformers adjusts the line voltage in small amounts, around 5 to 20 percent, and help to improve performance and lifespan of industrial equipment. During operation, these transformers offer protection from critical equipment failures, as the power source is isolated from the connected unit. Larson Electronics LLC offers the following types of buck/boost transformers: single phase, three phase delta and three phase wye. Each of these are designed for indoor or outdoor use and meet NEMA 3R guidelines, as well as, NEMA ST-20 standards. NEMA 4, NEMA 4X and NEMA 12 enclosures are available upon request. Each of these transformers are in stock and are available for expedited shipping meaning there is little downtime after ordering. The copper winding in these step-up and step-down transformers are formed from magnetic copper wire to help improve performance. The close tolerances used during manufacturing also help to eliminate burrs which hinder performance. Each core is specially coated to prevent the ingress of moisture and electrically balanced to minimize axial forces during short circuit situations. Each are encapsulated in silica sand and resin, and cased in a NEMA 3R enclosure. These transformers pass most of the load voltage directly through the transformer, only transforming a small percentage of the load. Due to this technology, a smaller and quieter transformer is manufactured and uses less materials. This provides operators with significant energy savings, as well as, environmental benefits.
"Everyone likes to enact practices that help them to save money," said Ron Bresnahan, CEO of Larson Electronics LLC."These buck and boost transformers use lower heat emissions and energy, allowing our customers to benefit from lower monthly energy bills."
About Larson Electronics LLC: Larson Electronics LLC is a manufacturer of industrial lighting equipment and accessories. The company offers an extensive catalog of industry-grade lighting and power distribution products for the following sectors: manufacturing, construction, food processing, oil and gas, military, marine and automobile. Customers can benefit from the company's hands-on, customized approach to lighting solutions. Larson Electronics provides expedited service for quotes, customer support and shipments.
High Resolution Image 1-Buck and Boost Transformers
High Resolution Image 2-Buck and Boost Transformers
High Resolution Image 3-Buck and Boost Transformers
High Resolution Image 4-Buck and Boost Transformers
High Resolution Image 5-Buck and Boost Transformers