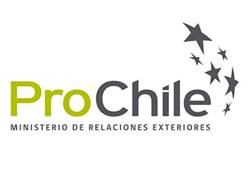 New York, NY (PRWEB) June 15, 2017
Representatives of eight Chilean companies will be among the over 2,600 exhibiters from 55 nations who will come together for the 2017 Summer Fancy Food Show, the most important gourmet food fair in the United States. The event will be held June 25-27 at New York's Javits Center.
The South American nation is currently the world's leading exporter of fresh grapes, blueberries, cherries and plums – among other products –, but its focus at this international event will be its growing production of gourmet foods with characteristics that make them a tasty, healthy, convenient and nutritional option for people around the world.
Stand 317 will feature the Chilean firms Kawesqar, Cambiaso Hermanos, Terra Andes, Chile Olive Oil, Sow– Seeds Of Wellness, Andes Mountain Water, Eggless Co. and Newén Maqui with a variety of products including salmon snacks, organic tea and honey, olive oil, chia seeds and oil, spring water, egg-free mayonnaise, and a drink made of maqui, a medium-sized plant that grows in southern Chile. Maqui fruit has been consumed for centuries by the Mapuche people because of its medicinal and nutritional qualities.
Maqui is a superfood that is high in fiber and is recognized as an antioxidant, anti-inflammatory and analgesic that contributes to the prevention of cancer and heart disease and slows the premature aging of cells. It also helps address neuro-degenerative problems such as Alzheimer's disease, regulates the metabolism of sugar in the blood and burns fat by increasing the body's temperature.
Chia seeds are highly valued by health-conscious North American consumers because they are gluten free and have a significant amount of omega 3, protein and minerals. Chia is a superfood that is rich in antioxidants and can be used as a supplement in a variety of items including baked goods, cereal, peanut butter and drinks.
"The United States is the main market for Chilean food exports. In 2016, it accounted for 27.3% of the US$15.279 billion in recorded sales. Our current challenge is for the market to recognize us not only for the high quality of our fruit and wines, but also for gourmet products like the ones that we will showcase at this year's Summer Fancy Food. They reflect the development of the Chilean food industry based on high-quality primary materials and the use of cutting-edge technology," notes Mauricio Banchieri, the Trade Commissioner of Chile in New York at ProChile, the South American country's agency for promoting the export of goods and services.
About ProChile:
ProChile is the institution of the Ministry of Foreign Affairs of Chile in charge of promoting exports of products and services. ProChile has a network of over 50 offices worldwide and 15 Export Centers in Chile which have experience and tools to help boost the export sector and position Chile's attributes in international markets. http://www.prochile.gob.cl/