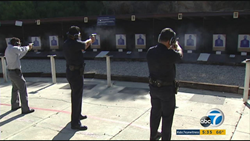 Los Angeles, CA (PRWEB) June 17, 2017
Steve O'Neal is the President of Green Knight Security and a prior Los Angeles Police Officer and United States Marine. He uses the training and relationships he fostered to hire and train the premier protection team in the country. Green Knight's training team consist of LAPD's SWAT and Training Cadre to train the best in the business.
ONeal explained "While personal protection is one that involves utmost trust and responsibility, executive protection involves professional protocols that many companies require. Confidentiality is taken to the next level and our goal is to provide our clients with the security they desire at an affordable cost." In some cases, protection for upper level management may require teams of guards. Green Knight Security is well versed in handling any size detail. GKS uses active LAPD Officers, Prior Law Enforcement and Military operators to protect what is important to its clients.
The GKS team will create a security plan that is able to provide the maximum level of security, any time and any place that it's needed. The Executive Protection Division can offer security in many of the following ways:
VIP event protection
Celebrity & High Worth Client protection (often referred to as Body Guards)
Estate/Work place site Security
Launching of product lines
Crowd control for events
Surveillance/Counter Surveillance
Listening device detection (bugs)
Highly publicized events involving celebrities or public officials
They are capable of providing individual or group details in addition to full-scale security for the protection of families and companies. Security Specialists are trained to meet a company's specific needs. GKS will create a security plan that involves onsite security for the premises as well as personal security for members of the family and/or company that travel on both domestic trips and abroad. Each Security Specialist understands the importance of both confidentiality and professionalism and hold both to the highest standard.