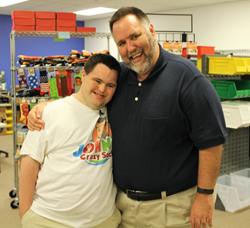 I'm so excited to join the Mass Challenge. I love showing that I can make my business a success.
Melville, NY (PRWEB) June 16, 2017
John Cronin, a 21-year-old man with Down syndrome, founded John's Crazy Socks with his father because he loved socks and did not consider his Down syndrome an obstacle to success. Six months later, their father-son business is flourishing and now John and his business have been selected to participate in the MassChallenge 2017 accelerator program. Only 8 percent of the over 1,500 startups that applied were accepted into the four-month accelerator located in Boston.
John said, "I'm so excited to join the Mass Challenge. I love showing that I can make my business a success."
MassChallenge is one of the strongest business development programs in the world. John's Crazy Socks will participate in MassChallenge's Boston accelerator program. To be selected, the company had to submit a written application. Based on that application, John's Crazy Socks was selected as one of 300 start-ups to present to judges as part of round two. John opened the presentation by explaining the mission of his business – "spreading happiness through socks" – and told the story of how he came up with the idea for selling crazy socks and worked with his father to open it. Where others might have been nervous given the stiff competition, John's confidence made him fearless in making his pitch to the judges.
John's Crazy Socks opened in December 2016 and six months later, it has shipped over 18,000 orders of socks and earned over $500,000 in revenue. They began by offering 31 different styles of socks and now offer over 1,200 different styles. Every order includes a thank you note from John and some candy as a way of keeping the relationship with customers personal.
As a company co-founded by a man with Down syndrome, John's Crazy Socks has developed socks to raise awareness about people with Down syndrome, Autism, Williams syndrome and other special needs. Their Awareness socks both increase visibility of these populations and raise money for charity partners such as the National Down Syndrome Society and the Williams Syndrome Association. In addition, John's Crazy Socks donates five percent of its earnings to the Special Olympics. John is a Special Olympics athlete. The company has raised over $20,000 for its charity partners. John's personal involvement with our charity partners goes beyond donating money he is active with the National Down Syndrome Society and their #DSWorks campaign which educates employers about the ways that people with Down syndrome can contribute in the business world.
Acceptance into the highly competitive MassChallenge program validates the work that John has done. He may have Down syndrome, but in this business accelerator, John and his father, Mark X. Cronin, will work side-by-side with other start-ups to access MassChallenge's global network, world-class mentoring from industry experts, lectures and seminars, free co-working space, and unrivalled access to corporate partners. The accelerator culminates on November 2nd at the MassChallenge Boston Awards Ceremony, where selected startups will pitch for the opportunity to win a portion of over $2 million in no-equity awards.
John is not only the co-founder of John's Crazy Socks, but he is one of the hardest workers in the business as any owner would be. He helped design the Down Syndrome Awareness Socks and Shark Socks for the Special Olympics. He is the face of the business, so he records videos for social media and thank you videos for customers. He makes public appearances speaking about his business and what people with Down syndrome can achieve. John has been interviewed on U.S. and international television news and radio programs. He has been featured in Money Magazine, ABC News and The Mighty among other media outlets.
John contributes to the daily operations. Asked about his work, John says, "I write personal notes for some customers. I also put the cards together that go in the orders. Sometimes, I help put stickers and labels on socks."
Mark X. Cronin, John's father and co-founder, said, "We've grown rapidly since opening in December 2016 and Mass Challenge will help us develop the skills and relationships to both manage our growth and continue to fuel it. It is clear that we owe much of our success to John's creativity and presence. He inspires the whole company. Every day, John demonstrates what is possible and we expect our participation in MassChallenge to help us stretch our limitations."
To learn more, visit the website for John's Crazy Socks at https://JohnsCrazySocks.com, visit our Facebook page or contact us at 631-760-5625 or service(at)johnscrazysocks(dot)com.