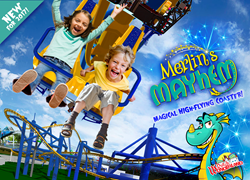 The Fourth of July celebration in Lititz marks its 200th anniversary this year.
Lancaster, Pa. (PRWEB) June 15, 2017
Visitors to Lancaster have loads of "new" to choose from starting in June 2017, such as:
-- "Day Out With Thomas" returns to the Strasburg Rail Road, June 17-25 – now with pal Percy by his side. Or get a "taste" of ziplining with Refreshing Mountain's new Flying V format.
-- Watch (or even assist) a traditional PA Dutch barn raising via the historic Star Barn renovation at Ironstone Ranch in Elizabethtown, July 2-4.
-- See (& taste) Lancaster City in a whole new way with Tuktuk Lancaster tours, and later this summer, Dutch Wonderland will unveil a great, family-friendly suspended roller coaster, Merlin's Mayhem.
-- In Lititz (Budget Travel's 2013 Coolest Small Town in America), one of the nation's oldest Fourth of July celebrations marks its 200th anniversary this year. Plus, great tours & rentals from just-opened Lititz Bike Works, including their detailed but user-friendly route maps.
-- Explore the amazing Azerbaijani carpet art of Faig Ahmed at the Pennsylvania College of Art & Design's Main Gallery, Aug. 4 - Sept. 22. And local weavings & inspirations can be found at the Old Country Store in Intercourse – one of Quilt Sampler's latest national Top 10 quilt shops.
-- A major expansion of 25 new stores and 147,000 more square feet at Tanger Outlets is slated to open Labor Day weekend.
-- The Red Caboose Motel & Restaurant in Ronks is getting a steady re-freshing & additions (as well as a summer music series) under its new ownership, and a Tru by Hilton (for the "Millennial mindset") is slated to open just east of Lancaster City this summer.
-- A new map & website make it easier than ever to explore the Susquehanna Riverlands recreational activities 'round Columbia, including a new boat/bike offering from Chiques Rock Outfitters.
-- Yummy new Callaloo Trinidadian Kitchen is now open in Lancaster City, or try the fabulous downtown fare at Barberet Bistro & Bakery, where co-owner Cedric Barberet is one of France's newest Knights of the Order of Agricultural Merit for his promotion of French food and culture.
-- Check out the new Ninja Warrior gym and much more at the massive Spooky Nook Sports complex in Manheim, named a Top 10 U.S. Multi-Use Sports Facility by SportsEvents magazine, and site of the 2017 Pan Am Cups international field hockey tournament, Aug. 4-13.
-- Get your favorite Plain & Fancy PA Dutch favorites or the added meat & suds specialties at the newly-renovated & re-named Smokehouse BBQ and Brews in Bird-in-Hand, or take in the new intimate Alois Jazz Experience every fourth Friday at Bube's Brewery in Mount Joy.
-- Enjoy the 125th anniversary of Mount Gretna – a true hidden gem, offering recreation (swim, bike), sweets, music, theater, artwork, and daily activities & talks on a wide range of subjects.