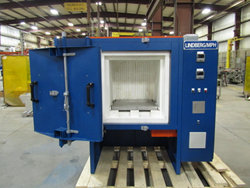 Riverside, MI (PRWEB) June 17, 2017
Lindberg/MPH announced the shipment of an electrically heated, large chamber utility box furnace to an automotive supplier. The furnace will be used for batch testing aluminum castings on a daily basis at a temperature of 500°C.
The work chamber dimensions of this heat treat furnace are 24" W x 24" D x 24" H and it has a maximum temperature rating is 1100°C. The Large Chamber Utility Box Furnace is available in nine chamber sizes to meet demanding applications. The furnace utilizes vacuum formed ceramic fiber insulation with low heat loss for operating economy and minimum heat storage which results in rapid heat up and control response. To ensure even less heat loss, a double steel shell construction is used to create a low temperature outer surface. The insulation and heating elements maintain uniform heat distribution for an energy efficient design.
"At Lindberg/MPH we strive to find the best heat treat solutions for our customers. For this project, we designed a custom heating system to minimize heat loss and providing energy efficiency." Andrew Paul, Sales Engineer
Unique features of this Lindberg/MPH box furnace include:

Alloy hearth plate for supporting workload, 34" hearth height
Side hinged, plug type door, limit switch for power cutoff when door is open
Embedded elements in roof, rear, and side walls
Prewired, side mounted, forced air cooled control console
Honeywell DC2500 Series primary temperature controller
Separate Honeywell DC2500 Series excess temperature control
LED element fault indication on control panel
SSR solid state power control module
Dual thermocouple assembly
Power circuit breaker
About Lindberg/MPH
In addition to melting and holding furnaces for non-ferrous alloys, Lindberg/MPH is a leading manufacturer of standard and custom industrial heat treat furnaces, including pit, box, IQ, and belt type for the ferrous and non-ferrous markets. Lindberg/MPH customers cover a wide range of industries including aerospace/military, automotive, commercial heat treating, energy/oil, electronics and the forging markets. Founded in 1917, the company has more than 75,000 industrial furnace installations worldwide and their equipment is backed by a full range of customer support services and the most extensive replacement parts inventory in the industry. Lindberg/MPH is a proven leader in the thermal processing industry, with a long track record of proven policies and management practices.
Lindberg/MPH is owned by Thermal Product Solutions ("TPS"), a leading American manufacturer of custom industrial ovens used for heat treating, finishing, drying, curing, manufacturing automation and process control. TPS is a global leader in thermal processing products and test solutions with brands including Baker Furnace, BlueM, Gruenberg, Tenney, Lindberg, Lunaire, MPH, and Wisconsin Oven. For more information on equipment solutions from TPS visit the website at http://www.thermalproductsolutions.com. #225751