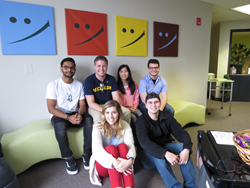 Making an impact in the community working with non-profits and working for a company who cares about doing more is important to the interns.
Troy, MI (PRWEB) June 16, 2017
Eighty degrees and sunny; summer is finally here. To that point, the team at Billhighway couldn't be more enthusiastic about the wonderful interns that have joined them for the summer. However, this is not your run-of-the-mill internship. Six interns have embraced the opportunity to work within a culture that opens their minds to a world of innovation. This internship is directed towards individuals who want to be a part of something bigger. One of the tools for success that the interns learn throughout the summer is a "Do more, impact more, grow more" mentality. The Billhighway experience empowers interns to build culture and community, deliver Results, Faster! and leadership is always expected. The talented group joining their team for the summer includes Rupin Balabhadra, Kurt Karas, Navin Kathawa, Andrea Lin, Mitchell McCollum, and Gabriella Ramaci.
"Making an impact in the community working with non-profits and working for a company who cares about doing more is important to the interns," said Brenda Gallick, Director of Team Member Success at Billhighway. The robust intern program challenges the interns to design new projects and develop original ways to tackle existing programs. In addition, the Billhighway interns work on a multi-month project that is designed to enhance teamwork skills. The project is then presented to the leadership team at the end of the summer.
Possessing a promising future, Rupin Balabhadra arrives at Billhighway as a junior at Ohio State University. Rupin is majoring in finance and is a member of the FisherDirect program, which propels students directly into the Max M. Fisher College of Business. As an Accounting and Finance Intern, Rupin will be introduced to numerous accounting interfaces alongside interactive tutorials regarding general ledger updates. In his free time, Rupin enjoys cooking, traveling, and is fascinated by cars and fashion.
Progressing from Ohio to "that state up north," Kurt Karas is the Marketing Intern for the summer. Kurt is a senior at Northwood University in Midland, Michigan. Throughout his stint at Billhighway, Kurt will explore new horizons within the organization. A few of his roles include generating leads and opportunities, assisting with event planning, managing social media accounts, and data-driven research projects. Kurt will look to enhance the overall direction of the company through inventive marketing techniques. In his personal time, Kurt loves watching and playing sports, listening to music, and meeting new people.
Speaking of meeting new people, Billhighway welcomes Navin Kathawa to the team. Navin is a senior at the University of Michigan, pursuing a degree in Computer Science with a minor in Entrepreneurship. Navin will be spending the summer as a Product Intern. During his time at Billhighway, Navin will assist in the design and development of product initiatives, provide input towards product innovation, and uncover forms of implementing and testing their platform. Navin is also an avid hockey fan, enjoys listening to hip hop music, and is a member of the University of Michigan roller hockey team.
The fourth intern for the summer is Andrea Lin. Andrea joins the team from the University of Michigan as a sophomore at the top of her class. As the Client Relations Intern, Andrea will coordinate client communications, direct aspects of department travel and trade show planning, provide support with internal project initiatives, and more. At home, Andrea is glued to the Food Network and enjoys putting her newfound skills to the test.
Up next is the Information Technology Intern, Mitchell McCollum. Mitchell is entering his senior year at Ferris State University in Big Rapids, Michigan. He is majoring in Information Security and Technology. Through the internship, Mitchell hopes to learn how to effectively diagnose support issues, maintain network backups, and update system documentation. Mitchell enjoys being outside and his favorite holiday is Halloween.
Last but not least is the Team Member Success Intern, Gabriella Ramaci. Gabriella is a graduating senior from Oakland University. She is majoring in Human Resource Development. Within her role at Billhighway, Gabriella will be tackling projects that include planning company outings and events, creating new training and career development materials, assisting with charitable volunteer programs, and collaborating on recruiting activities. In her spare time, Gabriella enjoys listening to Ariana Grande, binge watching shows on Netflix, and eating anything that is s'mores flavored.
Making the Billhighway internship experience unique is the Powered by Fun culture. This company "play" (core value) drives a creative environment, allowing interns to be themselves every day by wearing flip-flops and participating in events like the yearly Billhighway Olympics. Contributing to a well-rounded experience, this crop of interns will engage in the Intern After 5 Program. This exciting opportunity provides interns the chance to discover the heart of Downtown Detroit. Through the process, they attend networking meet-and-greets with other interns and executives in metro Detroit. It is the hope of this program to foster and retain young talent in the area.
About Billhighway (http://www.billhighway.co)
At Billhighway we come together to solve complex problems for member-based organizations and their components. The driving force behind the reason we come to work every day and push the limits is our desire to help others do more, create more impact, and grow more. Whether that means helping others achieve strategic objectives, grow awareness of their mission, or build meaningful member experiences, we always strive to bring our blend of technology and amazing people to the table to collaborate and empower organizations to free up time and resources, and set everyone up for success.
We call this DIG – Do more. Impact more. Grow more.
(###)