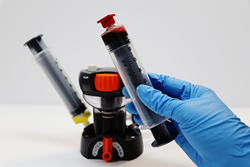 Austin, Texas (PRWEB) June 16, 2017
With an aging global population and rising dangers of opioid addiction and complications, demand for platelet-rich plasma and bone marrow concentrate based treatments has been steadily rising in the United States. According to the Global Regenerative Medicine Market 2016-2020 report, the specialty of regenerative medicine is forecasted to grow at a CAGR of 20.7%. Hank Brown, Celling Biosciences Executive Vice President of Sales, stated, "The CE Mark approval allows the company to respond to the growing opportunity in international markets, particularly within Europe, so this achievement is an important milestone in the company's sales history and a strategic step in the company's continued growth."
The ART PRP and ART BMC are class-leading, sterile-packaged disposable devices that are used to concentrate a sample of a patient's blood or bone marrow into their subcomponents through centrifugation. The concentration process takes less than 30 minutes at point-of-care and is often done on an outpatient basis depending on the procedure being performed. As peer-reviewed and presented at the Tissue Engineering and Regenerative Medicine International Society Annual Meeting (Sept 2015, Boston, MA), the ART BMC and ART BMC Plus devices consistently recovers 90% of concentrated autologous stem and progenitor cells, platelets, and growth factors – performance that is unrivaled in the world.
Also, unique to Celling Biosciences, the ART BMC and ART PRP systems have an optional, proprietary integrated filter system which allows physicians to further concentrate the patient's platelet-rich plasma (PRP) or platelet-poor plasma (PPP) without any additional sterile breaks. In vitro studies have shown the filter system's ability to concentrate proteins like alpha-2-macroglobulin (A2M), interleukin 1 receptor antagonist protein (IRAP), and fibrinogen.
Physicians can utilize the components of their choice to treat various orthopedic applications, employing ART PRP or ART BMC devices on average once every 42 minutes in the United States. The Celling Biosciences international business development team believes this level of usage will more than quadruple in the next year now that the European market is open for the ART family of products.
Kevin Dunworth, Celling Biosciences Founder and CEO, commented, "As the only company on the market with a cell-centric approach to all of our product lines, the development and commercialization of our proprietary ART PRP and ART BMC systems have been years in the making. Today is a proud moment for our company as we expand into the European market."
About Celling Biosciences:
As the innovative leader in regenerative medicine, Celling Biosciences collaborates with physicians and scientists to develop the most sophisticated technologies and techniques for maximizing the collection, concentration, and delivery of autologous blood and bone marrow aspirate.