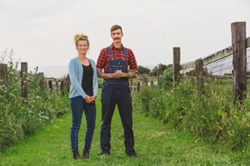 When we first moved here from Chico, the old-timers said 'you'll be growing peas and potatoes, right? They couldn't imagine that we intended to grow more than 70 varieties of vegetables and 150 varieties of flowers on less than two acres of land
Fort Bragg, CA (PRWEB) June 20, 2017
Local farmers Melanie MacTavish and Kyle Forrest Burns of Nye Ranch are pleased to announce that they've been certified organic by Mendocino Renegade, which supports and promotes local organic and biodynamic farms and businesses. The certification program is a project of Mendocino Organic Network, which is structured to stay small, local, informal, independent, non-governmental, and non-bureaucratic. Founded by regional organic apple farmer and activist Tim Bates whose Apple Farm in Philo, CA. is also certified biodynamic, Mendo Renegade is an inexpensive, credible program of labeling local, biologically produced food for local farmers who use organic processes.
Nye Ranch is a beautiful little farm just a short five minute drive north on Highway 1 from the center of Fort Bragg, CA. Melanie MacTavish coined the phrase "farming in harmony with soil and sea" when she and her fiancé Kyle Forrest Burns moved to Fort Bragg in 2015 with a desire to strengthen the coastal community through small scale, organic agriculture.
"When we first moved here from Chico, the old-timers said 'you'll be growing peas and potatoes, right?'" says Burns. "They couldn't imagine that we intended to grow more than 70 varieties of vegetables and 150 varieties of flowers on less than two acres of land."
By respecting and nurturing the soil, including using kelp from local provider Rising Tide Sea Vegetables and oyster shells, they are able to work with the ecology of the local landscape in a biologically intensive process for maximum productivity. They lease the land from Burns' parents, who purchased the six acre parcel on the ocean side of Highway 1 in 2003. Nye Ranch was originally a two hundred acre dairy farm that extended all the way to MacKerricher State Park.
Their first year of farming they started more than ten thousand vegetable and flower seeds for early spring planting and created forty-seven permanent hundred-foot long raised beds. MacTavish indulges her passion for flowers by drawing inspiration from the rugged ocean and coastline for her unique cut flower creations, which are in high demand at local farmer's markets, and for weddings and special occasions.
The couple has big plans for Burns' favorite plant, garlic. Starting out with 1500 garlic plants the first year, they've worked up to 9,000 garlic plants this year, and plan to host an annual Garlic Festival beginning this fall, with booths selling locally made products, and mini workshops about all of the properties and medicinal uses of garlic. They plan to use a dry farming technique for their garlic, utilizing a thick straw mulch that retains moisture and prevents weed pressure.
"Since it takes nine months to grow, Kyle calls garlic his baby," says MacTavish, "We're hoping the Garlic Festival attracts visitors to the area and helps bring attention to small organic farms like ours on the Mendocino Coast."
Nye Ranch will also occasionally host the Farmer's Guild this year, an organization founded by farmers who want to share skills and knowledge and be a collective voice for sustainable agriculture. The Farmer's Guild supports healthy food production by helping farms become economically viable with social networks designed to attract, cultivate, and sustain a new generation of young farmers ready to work the land. In 2017 they merged with Community Alliance with Family Farmers, CAFF.
The couple is also excited about having the first Perone Beehive in Mendocino County. Although well-known in Mexico, and Central and South America, the Perone Hive was developed by 40-year beekeeper Oscar Perone with the intention of providing a natural environment for bees that is non-invasive and better for the bees. Honey is harvested just once each Spring. The Perone Hive and PermApiculture system hopefully will be instrumental in reversing the trend of colony collapse disorder by facilitating the natural behaviors of a colony.
Nye Ranch received grant funding from the NRCS (Natural Resources Conservation Service) to plant a Pollinator Hedgerow around the entire farm. The hedgerow incorporates native plants and provides flower forage for all the beneficial insects and small creatures that live on the farm. The goal is to always have some plants in bloom, therefore providing a constant supply of food for the bees, butterflies, moths, and hummingbirds. The pollinator hedgerow acts as a windbreak and provides shelter from intense coastal winds. Since Fort Bragg was designated the first "Bee City USA" member in California, projects like the Nye Ranch Pollinator Hedgerow will ensure ample habitat for the endangered pollinators of the North Coast.
Nye Ranch now has a single employee, Magnolia Barrett, who worked with Noyo Food Forest, a local organization that offers experiential training to engage and inspire young people in the community to learn how to grow fruit and vegetable crops served in Fort Bragg school cafeterias and sold at local farmers markets.
"Maggie has a sunny personality, which the plants appreciate as much as we do," says MacTavish. "She's made it possible for us to expand the amount of food we produce by giving more attention to each crop. We're proud to be a part of this vibrant coastal community, providing accessible, nourishing organic food and a biologically diverse habitat using sustainable farming techniques."
Photo: BlakeFloydGardner.com
Video: Burnshimself.com