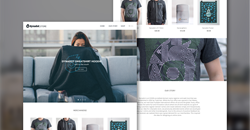 The new shopping cart allows users to build a powerful e-commerce store, all in their website builder.
SAN MATEO, CA (PRWEB) June 22, 2017
Dynadot LLC, the San Mateo based domain registrar, has announced the addition of shopping cart functionality to their Website Builder product. Customers who choose the upgraded Business plan will be able to build a fully functional e-commerce website with Dynadot tools.
"It can be frustrating for a small shop to start selling their products online," said Luke Burgess, Lead Designer at Dynadot. "Our fully featured website builder comes complete with robust, easy to use shopping cart functionality at a low price."
Shopping cart functionality is the latest update to the Website Builder following the addition of a code editor, advanced SEO settings and an email platform amongst other updates in 2015.
Dynadot's Site Builder is available in three packages: Free, Pro ($5/mo) and Business ($15/mo). More information on Website Builder is available here. When paired with a domain extension such as .STORE, Dynadot users can now build the ideal e-commerce store, all in one place.
About Dynadot:
Dynadot is an ICANN accredited domain name registrar and web host. Founded in 2002 by a software engineer, our primary focus is engineering and design excellence. Our custom written, state-of-the-art domain and hosting software is stable, fast, and easy to use. In just a few clicks, our website builder allows you to create robust, stylish websites with intuitive tools that require no coding. From humble beginnings, we have grown steadily and now serve thousands of customers from 108 different countries around the world.