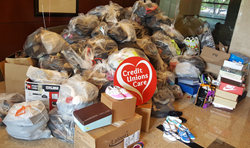 Dallas, TX (PRWEB) June 16, 2017
Resource One Credit Union participated in DE Day of Service on June 14th, 2017 by donating used shoes to Soles for Change, a Credit Unions Care initiative. Resource One Credit Union began collecting shoes in May at all of their locations and continued until June 14th. During that time Resource One Credit Union collected hundreds of shoes from members and employees.
The shoes donated to Soles for Change are provided to families in developing countries who have little to no income. The recipients repurpose and sell the shoes, this represents an opportunity for individual families and their communities to develop micro-businesses within their areas which will bring income and help improve the devastated economy. It is the only possibility for true self-sustainability.
"Soles for Change offers a unique income producing opportunity for families in emerging countries," stated Jennifer Grinder, Resource One CSM and DE. "Many people, especially women living in developing countries have limited options for income. This campaign provides the disadvantaged a hand up, in lieu of a hand out."
To find out more about Credit Unions Care or their current initiatives visit http://www.creditunions.care.
About Resource One Credit Union
Resource One Credit Union was originally chartered as Sears Dallas Employees Federal Credit Union in 1936. Over time, the increased demand for more locations and additional products and services prompted the expansion of our product lines and field of membership. Today Resource One proudly serves as a not-for-profit financial institution for the communities of Dallas and Harris counties. Resource One has 11 convenient locations to serve our over 55,000 members. Visit Resource One Credit Union's homepage at http://www.r1cu.org.