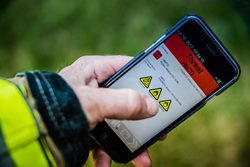 Baltimore, Maryland (PRWEB) June 16, 2017
Rigaku Corporation is pleased to announce that Rigaku Analytical Devices, a leading provider of innovative handheld spectrometers, will be demonstrating feature enhancements of its Rigaku Progeny ResQ handheld 1064nm Raman analyzer, this week at the International Association of Fire Chiefs Hazmat Response Teams Conference in Baltimore, Maryland, US, in booth #313.
Designed with a first responder's needs in mind, the Progeny™ ResQ™ analyzer provides the industry's most comprehensive threat detection in a handheld platform. With its unique 1064nm excitation laser, the Progeny ResQ analyzer can measure colored solids and liquids as well as substances through containers, overcoming issues of fluorescence interference that affect other handheld Raman devices. Recent updates to the Progeny ResQ Raman analyzer include:

expanded library that includes latest fentanyl strands
ability to pair a smartphone to view live field analysis
customized setting applications specific to analysis conditions
identification of lower concentrations using a SERS signal enhancement kit
In addition, Dr. Suzanne Schreyer, Sr. Applications Scientist, will present a case study during the IAFC Hazmat Response Teams conference titled "Comparison of Raman & IR for Material ID" during breakout session #517, June 17th at 12:30pm.
To find out more about the capabilities of the MIL-STD 810G certified Progeny ResQ analyzer with 24/7 reachback support, please visit http://www.Rigaku.com/ResQ
About Rigaku Analytical Devices (RAD)
RAD was formed as the global handheld and portable spectroscopic analyzer business unit of Rigaku Corporation in 2011. RAD's portfolio of handheld and portable spectroscopic analyzers are used for a variety of applications, empowering our customers to achieve rapid lab-quality results any time, any place.
For further information please contact:
Jen Lynch
Marketing Director
Rigaku Analytical Devices
Wilmington, MA USA
Tel: +1 781-328-1024
Jen.Lynch(at)rigaku.com