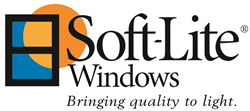 (PRWEB) June 16, 2017
Soft-Lite has introduced brand-new Arrival Series Fiberglass Entry Doors that are exceptionally beautiful, strong and thermally efficient. Consumers can choose from wood-grained doors with a factory-finished stain, or smooth painted fiberglass doors – all of which are as beautiful as wood and as durable as steel. Unlike wood, fiberglass will not warp or rot; and, unlike steel, it will not dent or rust.
Arrival Series doors are offered in a wide array of innovative products – from full-glass doors to oval-glass options or a more modern appearance. A wide selection of door configurations, styles, and options allows consumers to truly custom design their doors and create the best solution for their home.
Arrival Series Entry Doors incorporate many distinct product features, including composite rails that protect the door at the top and bottom edges to block moisture that can wick into doors; an enhanced lock block combined with 1-1/4" engineered lumber lock stiles to increase rigidity and stability; a heat- and cold-resistant polyurethane foam core that fills the door, making homes more energy efficient; premium fiberglass that provides years of durability and requires very little maintenance; removable weatherstrip, protected by a durable jacket, to offer long-lasting sealing power; hinges with ball-bearings that protect each hinge pivot for added support and durability; composite adjustable sills that help to maintain a tight seal between the sill and the bottom of the door; and a dual-bulb, dual-fin design, which helps maintain tight contact with adjustable sill caps and creates added barriers against moisture.
Soft-Lite is a vinyl replacement window and door manufacturer headquartered in Streetsboro, Ohio. The company was named a 2017 ENERGY STAR Sustained Excellence Award winner – making it the fourth consecutive year the company has achieved Partner of the Year recognition from ENERGY STAR. The company is also a multiple Crystal Achievement Award winner and is a recipient of the Friedman Corporation Customer Appreciation Award, the Window & Door Top 100 Manufacturers recognition, and the Door and Window "Companies to Watch" recognition. For more information, visit http://www.soft-lite.com.