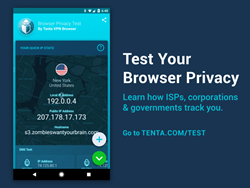 Find out what personal information browsers are leaking.
Seattle, WA (PRWEB) June 20, 2017
Online privacy is under attack with new measures making it easier for web giants and Internet Service Providers to sell consumer data instead of protecting it. As a result, there is a boom in web surfers turning to virtual private networks (VPNs) and private browsers for online activities. But some VPNs are taking advantage of that, doing the exact thing that their users sought to escape -- scamming them with fake VPNs, while collecting and selling their data.
To combat this government overreach and its ripple effect on the VPN market, Tenta (a private, encrypted browser) has launched a brand new free web tool -- one that aims to make it easy to make sure VPNs are working by revealing how much browsers may be compromising users' online privacy.
The Browser Privacy Test checks how much personally identifying data browsers are leaking. It's a comprehensive web app that tests a computer's IP address, geolocation, DNS servers, Flash IP leak test, WebRTC IP leak test, Tor relay node status, blacklist status and more.
So, how does the Tenta Browser Privacy Test help enhance web security?
Better than a Bucket: The internet is a leaky ceiling -- except instead of water, personal data is falling through the cracks. The test helps users find the leak.
The Mirror Effect: Web surfers can see themselves as others do -- through their ISP and location details.
Total Transparency: Know what ISP services the area.
With Tenta's Test Tool, users can browse as securely or insecurely as they want. But Tenta advises everyone to at least get tested because users can't browse healthy if they don't know when their browser's sick.
For more information about Tenta's Test Tool, visit Tenta.com/test. Check out the open source code that powers the Privacy Test on Github. Download Tenta Browser for Android free in Google Play.
ABOUT TENTA BROWSER
Tenta is a next generation browser designed for privacy and security without sacrificing speed and convenience. Unlike most browsers, Tenta's business model is to protect your data instead of selling it with built-in, free OpenVPN and complete data encryption. Released in fall of last year, Tenta allows web users to browse privately and securely from anywhere in the world, regardless of any country's restrictions and online censorship policies. Like Tenta on Facebook and follow Tenta on Twitter.