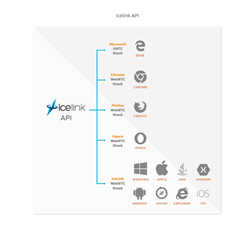 "Although IceLink has always historically supported native iOS WebRTC application development and Safari usage via our plugin, today we are happy to announce that IceLink now also supports WebRTC in Safari 11 without plugins." - Anton Venema, CTO
Surrey, BC (PRWEB) June 27, 2017
IceLink now provides plugin-free WebRTC support in iOS 11 and Safari with the same IceLink API.
"Apple's recent announcement at WWDC is gladly welcomed by our team," states Anton Venema, CTO of Frozen Mountain Software. "Although IceLink has always historically supported native iOS WebRTC application development and Safari usage via our plugin, today we are happy to announce that IceLink now also supports WebRTC in Safari 11 without plugins."
With the WebRTC standard now supported by all the mainstream browsers, IceLink users are assured that their website visitors will have an even more seamless user experience when using Safari. Prior to this announcement, visitors would be prompted to install the Safari plugin during their first visit. Now this step will no longer be necessary.
From a developer's perspective, this announcement highlights the advantages of leveraging IceLink's common cross-platform API that abstracts each browser's unique WebRTC implementation. Developers familiar with IceLink will find the same powerful API in v3.0.13 as they have used in the past, and will require no code changes to take advantage of Apple's new WebRTC support.
As Apple announces more details and rolls out support for more WebRTC functions, development teams using IceLink are benefitting from the drastically reduced development time and effort needed to react to each of these changes.
To learn more about Real Time Communications solutions using IceLink, and the soon to be released LiveSwitch, visit frozenmountain.com.
###
Started in 2008 and having grown to over 300 customers in 47 countries worldwide, Frozen Mountain Software provides cross-platform, licensed Internet Based Real-Time Communication (iRTC) SDKs, such as the multi-award winning IceLink, and services that allow organizations to incorporate WebRTC audio/video streaming, selective forwarding, audio/video mixing, screen sharing, call signaling, telephony, broadcasting, text chat, shared whiteboards, browser synchronization and internet pub/sub messaging into their applications. Learn more at frozenmountain.com.