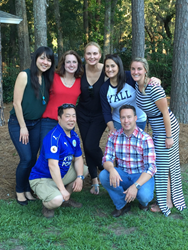 I am passionate about medical simulation and look forward to providing structure to the team and strengthening L&T's position in the industry and continuing to build upon our existing success
Savannah, GA (PRWEB) June 20, 2017
Based out of Lexington, KY, Denton will be heading up a team of five external sales reps established in territories across the US and Canada as well as two inside sales staff. Further staff growth is anticipated by the end of the year.
Denton has an extensive background in the medical simulation market having previously worked with Immersion Medical (acquired by CAE) and CAE for several years. Her experience in sales management, business development and the simulation industry will enhance L&T's ability to meet the needs of our customers as we provide clinician supported and relevant products to the marketplace.
"I am passionate about medical simulation and look forward to providing structure to the team and strengthening L&T's position in the industry and continuing to build upon our existing success," said Denton.
Led by Mike Kelly, US and Canada General Manager, L&T has experienced rapid growth over the last few years. In addition to several new hires, the Company has moved to new offices and expanded their warehouse space.
2017 in particular has been an exciting year for L&T with expansion and strengthening in both the UK and International teams as well. Anne Allin, Commercial Director commented, "We are delighted to have Angel join the US team. Angel's passion for simulation and strong leadership skills makes her well placed to deliver our expansion plans for the US and Canada, and work alongside our sales management in the UK (Jon Harries) and in the International Market (Ed Perez)."
About Limbs & Things
Limbs & Things was established in Bristol, England in 1990 by medical artist Margot Cooper. The business focuses on the development, manufacture and sale of medical training products for healthcare professionals and students worldwide. We are committed to working in close collaboration with clinicians globally to produce realistic task trainers, that enable more competent and confident professionals, with the ultimate aim of improving patient outcomes and reducing medical error.
Limbs & Things have offices in the UK, US, Australia and Sweden, as well as partnerships with distributors worldwide.
For more information on Limbs & Things please contact Alice Hodges at alice.hodges(at)limbsandthings(dot)com.