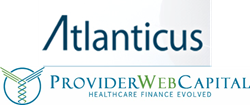 "In the ever-changing, complex landscape for healthcare reimbursement, the pressures on both providers and patients have never been more significant" Chris Stenglein, CEO Provider Web
(PRWEB) June 20, 2017
Provider Web Capital Funding, LLC ("Provider Web"), the leading finance provider for healthcare small businesses in the United States, is pleased to announce that it has consummated a minority equity investment from Atlanticus Holdings Corporation (NASDAQ: ATLC) ("Atlanticus"). Atlanticus is a financial holding company with investments primarily in companies in the financial services sector. Atlanticus' portfolio companies are leaders in consumer financial services with a focus on consumers with limited access to credit. The proceeds of this investment will be used to increase staff, deploy new technology solutions, and grow the balance sheet at Provider Web.
For nearly a decade, Provider Web has been helping medical practices serve their patients by offering financing solutions uniquely focused on the challenges in the industry. The company offers programs that allow their customers to normalize cash flow in an increasingly complex reimbursement or claims-based industry. Provider Web's application and underwriting process is technology driven – allowing medical practices to receive funding in as fast as two business days.
Over the last few years, the healthcare marketplace has seen a rapid evolution of the patient's financial responsibility for their medical treatment. Medical practices are in need of solutions for their patients to finance these rising costs. Provider Web is now uniquely positioned to solve this critical need with Atlanticus' core expertise in consumer credit. Provider Web will be rolling out new finance programs that will bring payment flexibility to all healthcare consumers.
"In the ever-changing, complex landscape for healthcare reimbursement, the pressures on both providers and patients have never been more significant", stated Chris Stenglein, CEO of Provider Web. "The new normal of high-deductible plans has put providers in the consumer finance business, particularly for patients with limited financial resources, thus making their primary mission of delivering care to patients more difficult. We are extremely excited to have partnered with Atlanticus to expand our broad array of financing solutions to help both patients and providers. Our mission is to eliminate the stress of managing cash flow and allow medical practices to stay focused on patient care."
Jeff Howard, President of Atlanticus added, "We have followed Provider Web for the past few years and have been very impressed with their ability to understand the complex issues in the healthcare system. They have partnered with the leading companies in the healthcare ecosystem, which have tens of thousands of provider relationships, to deliver their solutions. Their practice finance products will be game changers for providers of all sizes, and we believe that our consumer credit decisioning expertise will help serve the patient finance needs, especially those who need it most. Provider Web has seen a significant increase in client demand, and our investment will allow for them to meet this demand by growing their staff and having a large balance sheet from which they can scale."
About Provider Web Capital
Provider Web Capital is the only technology company with healthcare payment solutions that are simple, trusted, and complete. We believe the revenue cycle model in healthcare is fundamentally broken, and we exist to empower healthcare providers to serve more patients. Headquartered in Atlanta, Georgia with offices in New York City, Provider Web Capital works with clients across the United States.We have developed solutions to allow our customers instant access to payment on their claims with a simple, automated process.
About Atlanticus
Atlanticus Holdings Corporation (NASDAQ: ATLC) is a financial holding company with investments primarily in companies focused on providing financial services. Through its operating subsidiaries Atlanticus endeavors to offer a broad array of valuable financial products and services related to personal loans, retail credit, credit card lending, auto lending, loan servicing and portfolio acquisitions.