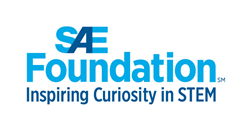 When asked what advice he would give to students interested in a career in science and technology Mr. Roush offered, "Dream Large…follow your dreams and just do it."
WARRENDALE, Pa. (PRWEB) June 16, 2017
During its annual celebration recently held in Detroit, the SAE Foundation honored several industry professionals with leadership and philanthropic awards raising over $300,000 in support of SAE's STEM (science, technology, engineering and math) education programs.
The banquet was held May 23 at the Masonic Temple. Over 350 mobility industry leaders and elementary through university students gathered to commend leadership, dedication and service with the presentation of awards honoring corporate citizenship and both emerging and accomplished leaders.
Highlighting the celebration was the presentation of the Industry Leadership Award to racing legend Jack Roush. Roush is founder, CEO and Co-Owner of Roush Fenway Racing and Chairman of the Board of Roush Enterprises; he received the award in recognition of his meaningful contributions to the mobility industry and his exemplary philanthropic activities and passion for STEM education.
Mr. Roush was interviewed by Autoline host John McElroy. It was a great opportunity for guests to get to know the award recipient and his outstanding career accomplishments. When asked what advice he would give to students interested in a career in science and technology Mr. Roush offered, "Dream Large…follow your dreams and just do it."
Other awards presented during the celebration included:

Gordon Millar Award – presented to Ford Motor Company and accepted on behalf of Ford by Jim Holland, Vice President of Vehicle Component Systems Engineering. This award recognizes and celebrates an individual or organization that provides continuous philanthropic support to the SAE Foundation's mission to encourage and increase student participation and achievement in STEM. This award is funded by AVL.
Donald W. Ableson Award for Visionary Leadership – presented posthumously to Jack E. Thompson. Mr. Thompson served as SAE President in 2003, and dedicated eight years of service as a member of the SAE Foundation Board of Trustees. Throughout his career, Mr. Thompson was committed to making sure the mobility industry was supplied with outstanding engineers that were experts in the very latest technologies.
Young Industry Leadership Award – presented to Dr. Srikanth Pilla, assistant professor of automotive engineering at Clemson University and Sandeep Makam, Group Leader at FCA.
Dr. Pilla's accomplishments include being published in a wide variety of journals and peer review publications. He holds a patent for designing a new anti-drooling system and is currently working on the development of a fully thermoplastics lightweight composite door assembly. Along with his academic and professional achievements, he is committed to STEM education and spearheads student outreach programs.
Mr. Makam leads a team of cross-functional engineers who work at FCA US headquarters in Auburn Hills, Michigan. His team does powertrain and vehicle-system modeling, with a focus on all-electric and hybrid-electric propulsion systems. Mr. Makam has authored seven peer-reviewed publications, holds one U.S. patent and has a DFSS (Design for Six Sigma) Green Belt certification.
About the SAE Foundation
The SAE Foundation encourages and increases student participation and achievement in science, technology, engineering and math through educational programs, including A World In Motion® and the Collegiate Design Series™. SAE International is a global association of more than 128,000 engineers and related technical experts in the aerospace, automotive and commercial-vehicle industries. SAE International's core competencies are life-long learning and voluntary consensus standards development.