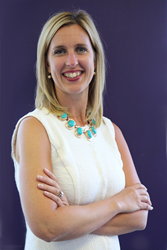 Farmington, Mich. (PRWEB) June 19, 2017
Atwell knows fundraising and development well. She has more than 18 years of experience working at ministries and nonprofits, most recently with the Red Cross of Michigan. She also has served on SEND's US Council and chaired the Financial Development Committee.
"SEND US will be recognized as the agency of choice for short-term and career missionaries because we will offer the most effective, most efficient, and most impactful care and support," Atwell said.
Three things drew Atwell to this role:
1. Commitment to and passion for the mission and core values of SEND.
2. The opportunity to inspire and lead change.
3. Internal knowledge and understanding of key issues facing the future of SEND.
Atwell will be responsible for overseeing the work of the mission as it pertains to sending functions within the US: marketing, mobilization, and member care. She will lead an executive team of eight leaders over various departments, ensuring that SEND US fulfills its role in the organization's vision of a global movement of Jesus followers making disciples among unreached people groups.
Atwell was selected after an extensive, 10-month search.
"We believe that Michelle is the person God has been preparing to lead SEND US," said Rick Bernard, US Council chairman. "She is sharp, innovative, and not afraid to try new things. I have been impressed by her heart, her warmth, her competence, and her professionalism."
Atwell's professional experience also includes Grace Centers of Hope, a local mission where she spent nearly 17 years raising funds for men, women, and families who were homeless and addicted, and watching God miraculously change lives as the gospel of Jesus was proclaimed.
Atwell accepted Christ as her Lord and Savior at an InterVarsity camp when she was a college freshman. "That weekend blossomed into a whole new life for me," she said.
Atwell lives in metro Detroit with her husband Joe and their two children.
SEND International is an interdenominational faith mission agency with around 600 missionaries in more than 20 areas of Asia, Eurasia, Europe, and North America. SEND's mission is to mobilize God's people and engage the unreached in order to establish reproducing churches. SEND members are multinational and are recruited and sent from sending offices and partner agencies around the world. For more information on SEND's mission and ministries, visit http://www.send.org.