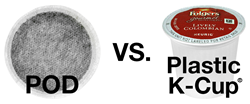 America's landfills have been filled with tens of billions of single serve plastic K-Cups®.
St. Louis, MO (PRWEB) July 10, 2017
Coffee roasters and beverage manufacturers recently started adding the term "pod" to the packaging labels of plastic k-cup® coffee, tea and hot beverage products. Consumers are coming up empty when they discover these popular plastic cups, labeled "k-cup® pods," are not designed to fit in a pod coffee maker.
Industry experts claim there are major differences that consumers need to know between pods and the so called "k-cup® pods." White Bear Coffee CEO, Bill Barrett, warns, "If you try to brew our round filter pack coffee "pods" in a Keurig® Coffee Maker, it will not work."
"White Bear Coffee Pods are designed to be brewed in a single cup Pod Coffee Maker," explains Barrett. "Plastic K-Cups® are only compatible with a Keurig® Brewing System type of machine."
K-cups® offer a coffee house quality flavor in such brands like Starbucks®, Folgers, and Green Mountain Coffee®. Plastic K-Cup® Pods have been criticized for filling America's landfills with tens of billions of single serve plastic cups.
Coffee Pods, on the other hand, do not have plastic and may be a more eco-friendly choice for the environment. Barrett's White Bear Pods are 100% bio-degradable. Each single serve pod brews the perfect cup of popular blends like Donut Shop, Colombian and Maui Dark Roast for about half the cost of a K-cup®.
Pod Coffee Makers are hard to find in stores and only available at a few retailers, like DiscountCoffee.com. This (ICS) Internet Coffee Service retailer offers a Hamilton Beach Pod Brewer for under $30, along with a great selection of coffee pods, like White Bear. Tea One and Java One compostable pods are also available.
Amazon, DiscountCoffee.com and other internet retailers offer both the plastic k-cups®, as well as the round filter pack pods. The CEO of DiscountCoffee.com, Kirby Newbury explains, "Consumers are getting confused with these two entirely different type of single cup products being called a pod."
Newbury claims, "We are seeing an increase in customers buying the wrong product for their pod coffee maker because of the confusing 'k-cup® pod' labeling descriptions."
Single cup coffee is the fastest growing trend among American coffee drinkers in the office, at home and in other locations. Hotels, motels, bed and breakfast hospitality businesses are replacing 4 cup in-room coffee makers with these low-cost coffee and tea pods. There is less waste, no loose grounds, and no messy pots and brew baskets to clean.
As the vast selection of single serve coffee, tea and hot beverage choices continue to gain popularity, many industry experts, like Barrett and Newbury, believe there's an immediate need to stop confusing consumers with inconsistent product labeling. DiscountCoffee.com has released an educational YouTube video to help educate coffee drinkers who are confused about the new "k-cup® pods."
About DiscountCoffee.com
DiscountCoffee.com was established in 1998 as a money saving alternative to traditional office coffee services, thus creating the (ICS) Internet Coffee Service industry. Today, the company maintains the commitment to providing high quality coffee, tea, drink mixes, and over 1000 break room supplies at up to 60% savings. DiscountCoffee.com educates businesses and consumers about "hidden charges" associated with free equipment and contract-based invoicing, and empowers them to take charge of their coffee buying through the website's easy-to-use, secure online ordering. The company offers low price guarantees, free shipping nationwide, and no minimum order requirements. For more information, please visit DiscountCoffee.com