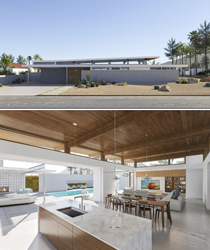 Los Angeles, CA (PRWEB) June 19, 2017
Resource Furniture, called "the biggest retailer in the multifunctional space" by The Wall Street Journal, and Turkel Design are thrilled to announce the Axiom 2080/Dwell Prefab show home soon to be under construction in Palm Springs. A preview of the home is set to be unveiled in booth 2230 during Dwell on Design, June 23-25, at the Los Angeles Convention Center.
The Axiom 2080, a new addition to the Axiom Series, is a modern, custom-designed three-bedroom home that combines desert style with unrivaled comfort. Featuring Turkel Design's signature post and beam construction and an open great room breezing out to a private courtyard, this single-family 2,000 square foot home draws from the lifestyle and culture of Palm Springs - seamlessly blending indoor and outdoor living.
To help create an effortless, convenient and comfortable lifestyle for the home's inhabitants, Turkel Design collaborated with Resource Furniture to select furniture solutions to provide maximum comfort and flexibility throughout the house. Visitors at Dwell on Design will get a taste of the many Resource Furniture-provided pieces that the public can expect to see in the show home. Dwell on Design booth will feature:

Dwell on Design is open June 23-25 at the Los Angeles Convention Center. For more information and images, email laura(at)resourcefurniture.com.
######
Contact:
Laura Anderson
laura(at)resourcefurniture.com
212-753-2039
About Resource Furniture
Resource Furniture is the original – and largest – source for cutting-edge, multi-functional living systems, offering the most inspired and innovative furniture solutions available in the world for more than 17 years. With nine showrooms – in New York, Los Angeles, San Francisco, Washington D.C., Toronto, Vancouver, Calgary, Montreal and Mexico City – Resource Furniture continues to define and revolutionize the industry by offering the most technologically innovative, space-saving and sustainable products in the world, all of which transform any space with both beauty and functionality. http://www.resourcefurniture.com
About Turkel Design
Recognized for creating homes of classic simplicity and enduring beauty, Turkel Design is a residential architecture practice devoted to clean lines and the beauty of natural materials. We aim to help our clients build thoughtfully-conceived homes that can be constructed within their budgets. We are a unique design practice that redefines the relationship between architect and client. Our design process utilizes virtual meetings and visual collateral to help define our clients' goals for their home, wherever they are. Using fixed-fee services to guide our clients through a simple interactive design process, we leverage the predictability of prefabricated building systems to control the cost, quality and timing of our buildings. Our unique systematized method assures the delivery of a high-quality contemporary design prefabricated house package to virtually any geographic area. We are currently providing prefab solutions to clients throughout the United States, Canada, Europe, the Far East and New Zealand. We believe the design process begins with a client and a client's aspirations, and that we exist to help these dreams become a home. http://www.turkeldesign.com