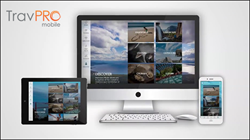 TravPRO Mobile provided Visit California with the most innovative platform to reach travel agents around the globe.
Morristown, NJ (PRWEB) June 18, 2017
TravPRO Mobile has partnered with Visit California to develop and launch the most advanced global travel agent training and sales enablement platform in the industry, with the unveiling of the California STAR Global Sales Companion™.
At it's core, the California STAR Global Sales Companion™ provides an energized, fun, and interactive training experience for travel professionals. But, what sets this platform apart from all others in the space are the custom developed continual 'sales enablement' tools. The Sales Companion™ continuously provides up-to-the minute sales intelligence that arms agents with the information they need to 'be the expert' anytime they need it, long after training is complete.
STAR's revolutionary technology was specifically built with mobility in mind. Learners can seamlessly jump between web, tablet and phone apps with ease, and the apps provide the ability to train or sell while offline as well; another industry first. After becoming a STAR specialist additional modules curated by California tourism partners and omnipresent tools to readily share brochures, maps, itineraries, and other collateral with prospective travelers are available.
"TravPRO Mobile provided Visit California with the most innovative platform to reach travel agents around the globe," says Leona Reed, Associate Vice President, Global Marketing, Visit California.
The California STAR Global Sales Companion is now live in 14 markets around the world and has been translated into 9 different languages. Ms. Reed continued; "Visit California and TravPRO Mobile share a common goal of reaching travel advisors in the ways that they want to be engaged. The STAR program allows agents to learn and, most importantly, sell California for every traveler's wants and desires."
"This platform not only gives agents an outlet to learn in a way, and at a pace, that they feel most comfortable, it also provides them the retention and sales tools needed to increase productivity and close rates long after 'graduating'," says Jonathan Cooper, CEO/Founder of TravPRO Mobile. "TravPRO's committed to pioneer and provide our partners with smart, interactive, and easy to use digital and mobile sales solutions to achieve quota in a more scalable, predictable and repeatable fashion, which frankly no one else is doing well," Cooper added.
Visit star.visitcalifornia.com for more information and to register for the program – free to all travel professionals.
About TravPRO Mobile:
TravPRO Mobile is the industry leader in engagement, training and sales activation solutions for global travel professionals. Specializing in engagement and enablement platforms via web and apps, TravPRO Mobile is committed to developing products that empower agents to generate more demand, be the expert, influence clients, and convert more bookings for the destinations and suppliers they sell. Any device. Anytime. Anywhere.
Visit http://www.travpromobile.com to learn more.