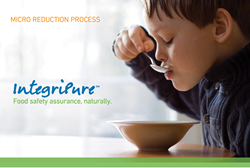 Our IntegriPure brand is a value-added service that we offer to our customers which means industry-leading validation for a 5-log reduction providing food safety assurance, naturally
Fargo, ND (PRWEB) June 19, 2017
Healthy Food Ingredients (HFI) announces its latest advancement in food safety with its chemical-free microbial reduction process (MRP) solution, IntegriPure™. It effectively reduces microorganisms while protecting the integrity and functionality of ingredients. The IntegriPure MRP system is an effective alternative to irradiation and other pasteurization technologies.
The innovative rotation-based system evenly distributes dry, saturated steam heat for consistent pasteurization, and the quick-cooling vacuum ensures ingredient stability and quality.
Jay Johnson, senior VP of sales, explains "Our IntegriPure brand is a value-added service that we offer to our customers which means industry-leading validation for a 5-log reduction providing food safety assurance, naturally."
Johnson adds that IntegriPure is one of HFI's signature processes that is differentiated from other heat treatments. "With our system a key aspect is that the process is validated," in which he notes validation is a preventive control for FSMA. "Consumers trust manufacturers to provide food that is pathogen-free without compromising ingredient functionality. Therefore, we partner with our customers to help them ensure they are meeting food safety standards, specifically with the upcoming FSMA regulations deadline," says Johnson.
"Utilizing our own micro-reduction system allows us to have more control over our supply chain. This is an important component for us in providing supply assurance to our customers. We are continually improving our capabilities from farmer to our customer, and our IntegriPure process adds that additional facet of assurance," notes Johnson.
About Healthy Food Ingredients (HFI)
HFI is a growing family of global specialty ingredient brands, which include SK Food International, Hesco/Dakota Organic Products, Suntava and Heartland Flax. Combined, HFI offers non-GMO, organic, certified transitional, gluten-free, and identity preserved pulses, soybeans, grains, seeds, flax, expeller oils, and signature products Suntava Purple Corn® and AncientGrisps®. The company is dedicated to delivering safe, healthy, premium-quality ingredients and supply assurance using a diverse, long-standing grower network and the highest safety standards.
Learn more at http://www.HFIfamily.com.
HFI is supported by Horizon Holdings, LLC, a San Francisco-based private investment firm with a significant track record in successfully building private and public companies.