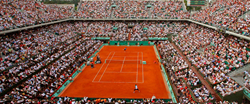 New York, NY (PRWEB) June 19, 2017
With the dramatic increase in corporate sponsorship of major international events in the last decade, one of the most nagging issues is the steady increase in the number of unused corporate tickets that go unfilled because they generally can't be redistributed. Televised events bring this point painfully home worldwide.
"Today's event sponsorship is about activation and optimization, and too many event sponsors are leaving money on the table because they don't have a good way to distribute all the tickets in their packages," said Belgian entrepreneur Jean-Sébastien Gosuin, who moved to New York three years ago to launch the marketing/technology start-up Seaters (http://www.getseaters.com).
Gosuin, who spent last week with one of his largest clients, French banking leader, BNP Paribas, (one of the largest tennis sponsors in the world) at the French Open, has had a long career in event marketing, hospitality and web-based initiatives and has seen first hand the issue unused tickets can have on a major international event.
"At last week's Open, we fielded 250,000 requests for tickets in the 30 days leading up to the start of the event," says Gosuin. "We built a system we call the 'Wish List' into the fan engagement program they manage online called 'We Are Tennis' -- through this interactive system, we signed up 50,000 new members for We Are Tennis in less than a month. 2,000 seats became available, and we filled them all!"
Gosuin worked for the 2012 London Olympic Games, where the controversy about sparsely-filled venues became a hot topic of conversation: there were 20 million total requests for tickets with a total of 8.5 million tickets available for all venues for the games. Despite this, an estimated 900,000 total seats went unfilled, and the main culprit was unused sponsor tickets.
Easy to use online ticketing systems are everywhere today, but what makes the Seaters platform a first is its patented "Wish List" software which is controlled by event sponsors. The sophisticated nature of the software allows the sponsor to manage its inventory and target ticket recipients by category – employees, customers, clients and strategic partners – while keeping the users totally informed on the other end. The Seaters customized "Likelihood Algorithm" -- part of its patent -- will show users the probability of getting a ticket in order to manage expectations.
"BNP Paribas is an innovator in terms of social engagement with fans," explained Gosuin. "They launched 'We Are Tennis' in 2011 as a way to develop a relationship with the tennis community that would be passionate and year round, not just about one event. That made them an ideal first client for us (in 2014) because our software platform made it easier to manage communications with 'We Are Tennis' members."
The relationship started creating a way for 12,000 bank employees to be invited access tickets for all events worldwide, and 40% of BNP employees signed up which resulted in a 97% decrease in "unused tickets" in two years. Employee requests totaled 54,000, and in turn 17,000 tickets were distributed. Waste went down by $850,000 in total ticket value, and as a result, BNP could negotiate an additional $300,000 in complimentary event tickets.
"We've found that event promoters are willing to reward sponsors who use a higher percentage of their seats," said Gosuin. "This in turn provides more opportunities for users of the 'Wish List' platform to get more seats, and the promoters are happy because their venues have more traffic and on site spending on merchandise and food and beverage!"
In addition to being the largest single sponsor of tennis events in the world, BNP Paribas sponsors over 300 events per year all over the world. The opportunity to build affinity group memberships and relationships is extensive, and the Seaters platform makes the job significantly easier to manage. The success of the Seaters launch with BNP led to an expansion of the platform giving access to 400,000+ Priority Banking customers of the bank.
Gosuin and his team have come to realize that the Seaters platform is more about social engagement than about just moving tickets. Niche marketing has become the dominant trend largely because of social media, and tickets are a way to start a conversation with any affinity group.
"Once you get a group to sign up, the key is to use the platform to keep the conversation going and maintain the relationship," explained Gosuin. "The new Advantage program on the 'We Are Tennis' site keeps them coming back by offering more than ticket opportunities: meet and greets with ATP players, discounts with partner retailers, and unique special content throughout the year. Pure social engagement based on the passion of the users that leads to increased business opportunities with multiple stakeholder groups."
About Seaters
Seaters is the marketing technology company headquartered in New York with offices in London, Paris, and Brussels. Seaters aggregates demand for time sensitive/perishable assets. By aggregating demand in advance, Sponsors and Event Organizers have a targeted single source of pre-qualified fans. As tickets become available, Sponsors and Organizers can immediately distribute them with a click of a button. Seaters is fan friendly and does not scalp tickets. No ticket distributed through the Seaters platform is ever higher than face value. Oftentimes sponsors distribute their tickets free of charge to the fan. Fair treatment of the consumer and management of expectations are guaranteed by the patent pending Likelihood Algorithm.
About BNP Paribas
BNP Paribas is a leading bank in Europe with an international reach. It has a presence in 75 countries, with more than 189,000 employees, including more than 146,000 in Europe. The Group has key positions in its three main activities: Domestic Markets and International Financial Services (whose retail-banking networks and financial services are covered by Retail Banking & Services) and Corporate & Institutional Banking, which serves two client franchises: corporate clients and institutional investors. The Group helps all its clients (individuals, community associations, entrepreneurs, SMEs, corporate and institutional clients) to realize their projects through solutions spanning financing, investment, savings and protection insurance. In Europe, the Group has four domestic markets (Belgium, France, Italy and Luxembourg) and BNP Paribas Personal Finance is the leader in consumer lending. BNP Paribas is rolling out its integrated retail-banking model in Mediterranean countries, in Turkey, in Eastern Europe and a large network in the western part of the United States. In its Corporate & Institutional Banking and International Financial Services activities, BNP Paribas also enjoys top positions in Europe, a strong presence in the Americas as well as a solid and fast-growing business in Asia-Pacific.
Contact: Richard Matthews
(203) 853-7095
Richard(at)mattmedia(dot)com