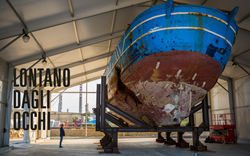 Monte Carlo, Monaco (PRWEB UK) 20 June 2017
The PeaceJam Foundation is happy to announce the winner of the 1st Annual PeaceJam Special Jury Prize. This prestigious prize will be awarded to the film "Lontago Dagli Occhi (Out Of Sight)" by Rai Radiotelevisione Italiana at the Monte Carlo Television Festival today, June 20th, 2017. The purpose of the prize is to recognize outstanding Television Films that embody the spirit of the Nobel Peace Prize, and the prize is to be awarded alongside the famous Golden Nymph Awards. Nobel Peace Prize winner and former President of Costa Rica, Oscar Arias, will present this prestigious award. The Peacejam Special Jury Prize adds a unique new humanitarian component to the Television Festival.
Through dramatic images, testimonies and symbolic stories, "Lontago Dagli Occhi," tells the story of a generous island in the Strait of Sicily that welcomes refugees after their difficult journeys. The film was chosen by an international assembly of 11 distinguished personalities headed by PeaceJam founders, Ivan Suvanjieff and Dawn Engle, nominees for the 2017 Nobel Peace Prize.
The mission of the PeaceJam Foundation is to create a new generation of young leaders dedicated to transforming themselves, their communities, and the world. Fourteen Nobel Peace Prize winners lead the PeaceJam Foundation -- Nobels mentoring youth, to change the world.
In addition to the Special Jury Prize, PeaceJam is also presenting "The PeaceJam Leadership Award" which recognizes someone in the Monaco Community who has done exceptional work in their field, who has promoted the work of PeaceJam, and who has embodied the spirit of the Nobel Peace Prize and Billion Acts Campaign.
This year Celina Lafuente de Lavotha, founder of Monaco Reporter will receive this prestigious award on 20 June from H.E. Oscar Arias Former President of Costa Rica and Nobel Peace Prize Winner. Ms. Lafuente de Lavotha was chosen for her tireless work of educating the public about PeaceJam, and covering on a regular basis, events in Monaco and disseminating it throughout the world thus creating bridges of educational and cultural understanding.