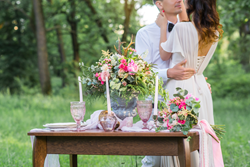 "No one wants to be swatting away pesky mosquitoes when a bride and groom are saying their "I Do's," observes Manuel Castro, co-founder of Mosquito Guard. "That's why insect control is such an important part of wedding planning."
New York, NY (PRWEB) June 19, 2017
The joyful summer wedding season is upon us, but it's also mosquito season, and this year, it's going to be a humdinger. A warm winter and wet spring have created ideal conditions for mosquitoes and ticks poised to swoop in and devour summer wedding guests. "No one wants to be swatting away pesky mosquitoes when a bride and groom are saying their "I do's," observes Manuel Castro, co-founder of Mosquito Guard. "That's why insect control is such an important part of wedding planning."
Through Amazon, Mosquito Guard markets all-natural insect repellent products such as repellent incense sticks, sprays, repellent bands, citronella candles, and netting. The goal is to protect people from a wide range of insect-related problems including

Annoying bug bites
Skin infections
Allergic reactions
Insect-borne illnesses
"The most important thing at a wedding is to keep guests safe and happy," says Castro. "A few simple steps are all that's needed to accomplish that goal."
Mosquito Guard's #1 Tip for a Bug-Free Wedding
"Mosquitoes love water like a ring bearer loves wedding cake," says Castro. "Even a capful of water is enough to attract them." Standing water is where mosquitoes lay their eggs and where their larvae live and grow.
This makes it critical that there is no standing water in or around the area of the wedding such as water lurking in buckets, kiddie pools, and rain gutters. To reduce the appeal of standing water in a bird bath or other area that cannot be emptied, consider mosquito "dunks." Dunks are products that are placed in water. They contain bacteria toxic to mosquito larvae, but not humans.
How to Protect Wedding Guests from Mosquitoes
"There are some drastic mosquito-battling measures that are effective, but they can be dangerously toxic," notes Castro, citing CO2 machines and insecticide bombs. "With young children, grandma and grandpa, and often family pets in attendance at a wedding, it's much safer to go with natural pest control solutions.
1. Create a Perimeter with Incense Repellent Sticks in Flower Pots – "Repellent sticks provide hours of mosquito-free enjoyment with no chemicals," says Castro. "Ours are made with plant based essential oils , they repel bugs naturally."
2. Avoid a Ceremony at Dusk – Mosquitoes and other bugs are extra active at dusk. If possible, schedule your ceremony for a slightly earlier hour.
3. Offer Mosquito Spray as a Wedding Favor – Do your guests a real favor by providing mosquito repellent spray for their use. "An all-natural product without toxins or chemicals will allow more people to protect themselves safely and not smell like pesticides," says Castro.
4. Turn Every Centerpiece into a Bug Repellent – Citronella is a beautiful plant with lacy green leaves that has been shown to be an effective mosquito repellent. Consider including citronella in any table arrangement, as well as peppermint and eucalyptus.
5. Make Mosquito Control a Fashion Statement – Wrist bands are a wonderful way to give your guests some added protection. "The trick is selecting the right band," says Castro. "Our product, for example, is safe for children and pregnant women because it is non-toxic and contains only all-natural plant-based essential oils."
6. Enjoy the Magic of Candlelight – Citronella candles can add to a romantic outdoor ambiance while simultaneously driving mosquitoes bonkers. "They hate the smell of citronella and head for the hills when they get wind of it," says Castro.
7. Plug in Some Fans – Mosquitoes are weak flyers, so even a modest amount of air circulation will keep them at bay. This trick works indoors and out.
About Mosquito Guard
Mosquito Guard is a line of 100% all-natural mosquito repellent products. Their offerings include protective repellent sprays, repellent bands, incense sticks, citronella candles, LED bulb zappers, and mosquito netting for baby and toddler cribs. All Mosquito Guard products are non-toxic, making them a natural choice for people who prefer an organic alternative to traditional chemical based products.