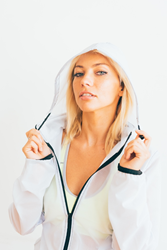 Designed to efficiently boost your vitamin D and help you sunbathe with style and grace.
New York, New York (PRWEB) June 21, 2017
SolTech+ (Plus) breaks into the summer market with the release of the new SolFit Collection, a multipurpose lifestyle inspired line that allows users to tan while wearing it. SolFit jacket and pants are engineered with patented UVTR technology to provide a safe and treated protective layer for practical sunbathing anytime of the year. The clothing's breathable lightweight design keeps the user warm in cold environments, and cool and refreshed in hot temperatures.
"We are thrilled to help people reconnect with the sun," said Stephan Perez, CMO of SolTech+. "Our clothing is designed to efficiently boost your vitamin D and help you sunbathe with style and grace." The SolFit is wind resistant, weatherproof, and waterproof to complement a range of lifestyles and activities. Crafted with stretchable comfort and durable quality, the SolFit can be everyday wear or the perfect gear for a bold adventure.
The SolFit texture feels unique to the touch and is eye catching with its cloudy white translucent tone. It is commonly worn with a bathing suit or workout attire underneath but some bold users have taken to wearing nothing under it in pursuit of the perfect tan. Fashion circles are gravitating to the new line because of its clean avant-garde design that pairs synergetically with a limitless spectrum of style. Tattoo enthusiasts have embraced it, finally being able to display their body art in cooler weather.
The SolFit Collection is reportedly being used in a variety of activities, ranging from hiking to fishing, cycling to yoga, to even surfing. Given the line's overwhelmingly positive reception and the variety in its application, SolTech+ will be launching a campaign called 'How Will You Wear Your SolFit,' celebrating the many uses for the new age clothing.
The SolFit Collection is available as a onesie or two-piece set for both men and women at http://www.SolTechApparel.com. SolTech+ is developing a strong social media presence by building engaging partnership deals with strategic social influencers and personalities. The company is planning to expand to international retailers soon and will continue pushing the limits of natural sunbathing and redefining the indoor tanning culture.