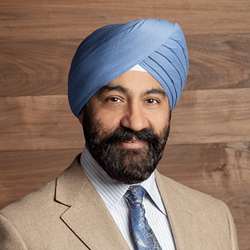 This commitment to 'Seva' in everything that we do is the single most important discriminator for our firm - and one that will continue to fuel our on-going community service efforts.
Fairfax, Virginia (PRWEB) June 19, 2017
Sevatec, Inc. (Sevatec), a leading National Security firm delivering Agile Development and DevOps, Data Sciences, Cyber Engineering, and Cloud solutions for the federal government, announced today that its Founder & CEO Sonny Kakar was honored with the Executive Leader of the Year award by the Northern Virginia Chamber of Commerce in recognition of the firm's commitment to social responsibility and serving the broader community.
This award is presented a DC metro region executive for outstanding contributions to their company and above-and-beyond leadership in the community during the past year.
"We're proud to honor Sonny Kakar and Sevatec, a perfect example of the strong commitment to community common throughout Northern Virginia," said Northern Virginia Chamber President & CEO Jim Corcoran. "Through their leadership and efforts, they make meaningful contributions to the well-being of our community."
Seva, a Punjabi word that means "Inspired to Serve" permeates the culture across Sevatec. Since its founding in 2003, Sevatec has consistently fostered an action-oriented culture of service - to each Sevatec employee, to every customer, to the US taxpayer, and to our community. In 2016, Kakar launched the SevaTruck Foundation, the only local food truck registered as a non-profit 501(c)(3), to serve underserved youth and veterans across the metro area with free, hot, nutritious meals.
"I am so humbled by what this recognition means for everyone in our firm," said Kakar. "While our Team has always worked super hard to serve critical National Security missions leveraging the most advanced technology solutions, they always find time to prioritize community service through personal volunteering efforts and financial donations. This commitment to 'Seva' in everything that we do is the single most important discriminator for our firm - and one that will continue to fuel our on-going community service efforts."
Winners were selected by a panel of business leaders actively involved in the Northern Virginia Chamber and the local community and have significant involvement in Corporate Social Responsibility efforts, both personally and professionally. This award was presented at the annual Outstanding Corporate Citizenship Awards Luncheon at the Hilton McLean in Tysons Corner, Virginia on June 14th.
About Sevatec
Sevatec, a National Security firm specializing in Agile and DevOps, data sciences, cyber engineering, and cloud solutions, leverages our deep domain knowledge and technology expertise to solve the federal government's most pressing business and technical challenges. Sevatec has achieved CMMI Maturity Level 3 ratings for both Development (DEV) and Services (SVC) and maintains ISO 9001:2015, 20000-1:2011, and 27001:2013 certifications. In practice, Sevatec optimizes current industry best practices and incorporates Agile principles to accelerate performance and outcomes for their clients.
Sevatec was founded in 2003 on the concept of "Seva," which means, "Inspired to Serve." The mission, "Trusted Talent, Inspired to Serve, Partnered with Government, to Protect and Improve the Lives of Americans," captures the essence of the firm's culture. Their portfolio of mission-critical technology and consulting initiatives across the federal government broadly supports the National Security Sector, including Homeland and Law Enforcement Agencies, Department of Defense, Department of Transportation, Department of State, and multiple Civilian Departments and Agencies.
To learn more about Sevatec, please visit http://www.sevatec.com.