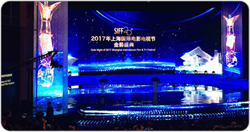 It is said that a Film Festival exemplifies the perfect marriage of art and technology, and this is fully demonstrated at the SIFF.
SHANGHAI (PRWEB) June 23, 2017
Christie®, a leader in creating and delivering the world's best visual and audio experiences, is proud to continue its enduring relationship with the Shanghai International Film Festival (SIFF) by serving as the event's exclusive digital projection partner for the ninth consecutive year.
The major film industry event, which is taking place from June 17-26, is known as China's only non-specialized competitive international film festival accredited by the Paris-based Fédération Internationale des Associations de Producteurs de Films (FIAPF). Currently in its 20th year, the star-studded festival kicked off in style with the screening of Danish Academy Award-winning film and television director Bille August's latest film The Chinese Widow starring Emile Hirsch and Crystal Liu, while Chinese director Zheng Chang's crime action film Detonator will close the event. This year, the high-performance and dependable Christie CP2230 3DLP® digital cinema projector has been deployed to screen both films at this prestigious event, attended by numerous international and regional celebrities.
In addition, Christie has supplied a Christie CP2215 3DLP Digital Cinema Projector for the adjudication of films nominated for the prestigious Golden Goblet Award for Best Film. A total of 14 films from around the world will be vying for this coveted award this year.
"Christie is honored to once again partner the SIFF as the exclusive digital projection partner, and supplying our cinema projectors for screening a number of feature films worldwide distinguished for their artistic excellence," said Jason Pei, Deputy General Manager, Christie China. "It is said that a Film Festival exemplifies the perfect marriage of art and technology, and this is fully demonstrated at the SIFF. We are fully committed in putting the best possible image on screen that allows all distinguished guests and audiences to enjoy a comprehensive and highly satisfying cinema experience."
Lin Yu, Vice President, Christie Asia Pacific, added, "Christie's digital cinema projection technologies have lit the screens of numerous film festivals around the world, and we are well-regarded as a trusted partner. Besides the SIFF, we are proud to be associated with major film festivals like Cannes and Toronto International Film Festival by allowing audiences to relish the unsurpassed digital projection technology that Christie provides, and which brings the creative visions of filmmakers to life on the screen."
The Christie CP2230 is used to screen the film "The Chinese Widow" at the opening ceremony
In conjunction with SIFF, Christie is participating in the CinemaS Shanghai International Film Forum and Exhibition, which takes place at the Shanghai Convention & Exhibition Center of International Sourcing from June 22-24, 2017.
During this event, visitors can check out the comprehensive range of Christie cinema projection and audio solutions, including a live demonstration of the new Christie CP2308 digital cinema projector featuring a completely new electronics platform and intuitive touchscreen user interface. Ideal for screens up to 35 feet, the Xenon-illuminated CP2308 produces up to 9000 lumens, and displays realistic colors for an immersive cinematic experience. Also on show are static displays of the Christie CP2208, CP2215 and CP2230 cinema projectors, as well as the cutting-edge Christie Vive Audio™ cinema audio solution, which utilizes ribbon driver speakers and Class D amplifiers.
A star-studded lineup of local and international movie celebrities is expected to attend this year's SIFF red carpet ceremonies, including directors Bille August, Feng Xiaogang and Ann Hui, Julie Delpy, Jean Reno, Maria Grazia Cucinotta, Milla Jovovich, Isabelle Huppert and Jackie Chan.
About Christie
Christie Digital Systems USA, Inc. is a global visual and audio technologies company and a wholly-owned subsidiary of Ushio Inc., Japan (JP:6925). Consistently setting the standards by being the first to market some of the world's most advanced projectors, complete system displays, and cinema audio solutions; Christie is recognized as one of the most innovative visual technology companies in the world. From retail displays to Hollywood, mission critical command centers to classrooms and training simulators, Christie display solutions and projectors capture the attention of audiences around the world with dynamic and stunning images, accompanied by awe-inspiring sound. Visit http://www.christiedigital.com.