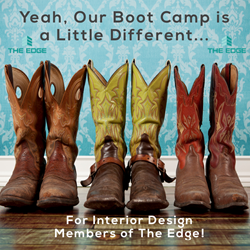 After 39 years as a designer, I was skeptical about an entirely new approach. Then I adopted the ActionMaps framework, and found it nothing less than profound!
Dallas, TX (PRWEB) June 21, 2017
The practice of interior design is perhaps the most complex of all small business types to run. Practitioners are typically forced to master multiple skill sets including time billing, merchandise resale, and project management—each of which requires extensive business knowledge.
Based on over a decade of research and development, university professor and design business expert, David Shepherd, has created a 2-day "Boot Camp" that will help interior designers to master his revolutionary new ActionMaps framework and learn to:

Clarify and renew their enthusiasm for their highest personal goals;
Identify the five "critical cores" that they must master to become irresistible to clients (Different for each designer!)
Find the ideal clients who will pay them premium prices and tell others about them;
Confront reality about the new domains they simply must master;
Create a detailed plan of action (during the event!) including the 25 action items they must take first
[To download a complete conference brochure, visit edgemembership.com/bootcamp, or text "boot" to 41411]
"I guess you could call it my 'aha moment,'" Shepherd said in describing his ActionMaps Framework. "I was teaching strategic planning at a top-ranked business school and reviewing advanced mapping tools used by the Fortune 500 to help clarify things like missions and goals. After having worked with hundreds of interior designers over the years, it suddenly occurred to me that only with the clarity of a 'map' could they get control of the enormous complexity within their businesses. So, I spent three years developing just that process in the form of my ActionMaps framework."
Shepherd, a long-time professor of strategic planning and small firm finance, is not new to the interior design field. He was first introduced to it in 2002 as a consultant, and subsequently created the industry's largest conference company dedicated to providing business skills to designers. More than 3,000 attended his 24 events between 2004 and 2013, at which time Shepherd returned to the ivory tower and discovered his breakthrough ActionMaps framework.
"I also created the largest national coaching network in the field," Shepherd added. "Called the Best Practices Network, or BPN, more than 150 design firm principals came together twice a year to share their best practices with each other, and with me. It allowed me to build what I'm quite sure is the deepest archive of financial statements and other data supporting why the top-earners take home 3-5 times more than the average interior designer."
When Shepherd emerged from his latest faculty position, he not only began introducing the ActionMaps framework to coaching and consulting clients, but also launched a new national membership called The Edge. The Edge provides members with a monthly print newsletter and audio CD, both providing the latest coaching insights and success strategies in use by designers today. Members also join live monthly coaching calls and receive substantial discounts on all paid events, including the ActionMaps Boot Camp.
All registrants for the Boot Camp (November 10-11, 2017 in Fort Worth, TX) will automatically be granted a Free membership to The Edge. However, those who upgrade to the paid, Principal level membership will save $300 on registration. The brochure explains these options in more detail and is available by visiting edgemembership.com/bootcamp, or texting "boot" to 41411.
Because of the intense and hands-on nature of the Boot Camp, attendance will be limited to 75 attendees, whereas Shepherd's previous events routinely drew more than 200. The Boot Camp will sell out and Early Bird pricing ends soon.
To receive the complete brochure, designers may visit http://www.edgemembership.com/bootcamp, or simply text the word "boot" to 41411. For those unable to attend, information on membership may be found at http://www.edgemembership.com.