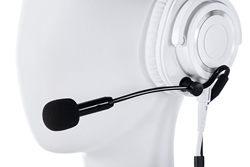 "We are pleased to partner with such an innovative brand as Antlion" said Jonathan Goldman, Quantum Networks' President. "Antlion has found a novel way to allow audio enthusiasts to add communications capabilities to their headphones."
New York City, New York (PRWEB) June 21, 2017
Quantum Networks announces today that Antlion Audio has renewed a multi-year exclusive agreement for Quantum to activate audiences in consumer ecommerce marketplaces. For Antlion Audio, which designs, manufactures and markets the ModMic line of attachable boom microphones, the goal of the agreement is to continue to forge deeper relationship with consumers in the marketplace environments, improve adoption rates, engage passion advocates, and solicit product feedback unique to the marketplace platforms.
According to Antlion Audio's CEO, Elishaya Wisnievitz, the decision to expand an agreement with Quantum was based on Quantum's proven performance over the previous contract year, evident in its marketing acumen and sales results.
Ever since Quantum Networks began carrying and working on the ModMic 4 in 2015's holiday season, sales have taken off. The ModMic 4 currently holds a near-perfect rating on Amazon, nearly 600 customer reviews, and "Amazon's Choice" status.
"We are pleased to partner with such an innovative brand as Antlion," said Jonathan Goldman, Quantum Networks' President. "Antlion has found a novel way to allow audio enthusiasts to add communications capabilities to their headphones."
Antlion Audio developed its improved ModMic 5 by utilizing marketplace customer feedback data regarding the ModMic 4.
"The ModMic 5 is the culmination of taking years of feedback from our users and putting every reasonable improvement suggestion into action," said Elishaya Wisnievitz, CEO of Antlion Audio. "We have never been more proud of and thankful to our many fans, and we believe the ModMic 5 will show our commitment to listening and acting on their feedback."
Quantum Networks launched the ModMic 5 on Amazon and other marketplaces in December 2016, and has exceeded all launch goals for the first two quarters of 2017.
According to Quantum Brand Manager Alana Cohen, "After the first year of partnering together on the entire ModMIc line, sales grew by over 400 percent, and continue to grow."
"Antlion Audio has taken the already excellent ModMic 4 and found ways to improve upon your headphone's best friend. We've all heard of premium headphones and now you can have premium headsets" said Alana Cohen, the brand manager for Antlion Audio at Quantum Networks.
PCMag.com gave the ModMic 5 an "Excellent" editor's rating, saying that it's a "clever idea that is smartly executed." Also continuing to say "The ModMic 4 was impressive though held back by a few design quirks, but the ModMic 5 solves those problems."
The Antlion Audio ModMic 5 is available for purchase on Amazon.com and Quantum Networks' flagship website, Blucoil.com. Click here to read the detailed case study on Antlion Audio.
About Quantum Networks, LLC:
Quantum Networks LLC, an Inc. 500 list member, is a New York City-based e-Commerce company. The company sells innovative products through the world's largest online marketplaces and its flagship website, blucoil.com. Navigating the nuances of online marketplaces is a complex process for brands. As experts in the field, Quantum customizes marketplace strategies with the brand's individual message in mind. Quantum effectively and efficiently executes the go-to-market strategy for each and every brand it partners with.
http://www.QuantumNetworks.com
About Antlion Audio:
Antlion Audio, founded in 2011, is a Portland-based manufacturer of attachable boom microphones to headphones. They launched their innovative product with the idea that you should be able to use your favorite headphones to communicate, instead of using a headset. The ModMic allows you to attach a microphone to your headphones.