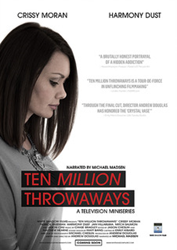 In 2006 the revenue from the US adult entertainment business was over $13.3 billion, which is more than the NFL, NBA and major league baseball combined – Harmony Dust, ex-stripper
Hollywood, CA (PRWEB) June 20, 2017
Motion picture production company White Shadow Films announced today that it has completed physical production on its new television docu-series, TEN MILLION THROWAWAYS. Written and directed by Australian-born filmmaker Andrew Douglas, and shot on several continents, the documentary shines a light on the adult entertainment industry and its direct links to human sex trafficking, which generates $32 billion every year.
Narrated by Michael Madsen (Reservoir Dogs, Donnie Brasco, The Hateful Eight, Kill Bill, Sin City), the six-part series was filmed on location in several countries as well as sex trafficking hotspots in Los Angeles, Las Vegas and Phoenix, Arizona.
Notable real-life cast include musician Jason Chu, ex-adult performers Crissy Moran and Jan Villarubia, and former exotic dancer Harmony Dust who have collectively starred in more than 100 adult movies.
"In 2006 the revenue from the US adult entertainment business was over $13.3 billion, which is more than the NFL, NBA and major league baseball combined."
– Harmony Dust, ex-stripper
TEN MILLION THROWAWAYS tells the R-rated story of a handful of individuals on both sides of the camera. All were involved in the adult film business and all were either sexually abused as children or exposed to graphic material at a young age. From ex-adult stars and recovering sex addicts, to the leading US organizations that exist to combat the flow-on effects of the adult entertainment pandemic, the documentary uncovers the illegal operating practices of this multi-billion dollar industry which continues to fuel human sex trafficking on American soil.
"You know between cigarettes, weed, drugs, gambling and the adult entertainment biz – one of those is clearly the cheapest option."
– Jason Chu, musician
White Shadow Films is an independent film production company that exists to develop, package and produce life-affirming and entertaining motion pictures. Spearheaded by producer and founder Andrew Douglas, the company's primary purpose is to see each project nurtured from initial concept, through production, marketing and distribution.
# # #