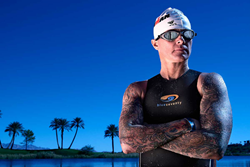 My singular goal is to help everyone obtain and sustain the sobriety they deserve.
(PRWEB) June 21, 2017
Todd Crandell knows heroin. He's battled the demons of alcohol and cocaine, too. For 13- years, Crandell destroyed his life, body, and relationships using heavy drugs and every opioid he could get his hands on. After his third arrest, he quit. Cold turkey. Now, Crandell is changing the face of addiction after turning his life around to become an elite world athlete. Since sobriety, he's raced 28 Ironman and 42 half Ironman (70.3) on six continents and in 15 countries.
He will run his 43rd Ironman (70.3) on August 13, 2017 in the resort beach town of Benton Harbor, Mi., and his 44th Ironman (70.3) on September 17, 2017 in Atlantic City, NJ. He shows no signs of stopping with more races planned for the future.
Nearly 24 million Americans are addicted to drugs and/or alcohol; many fail at rehab — again and again. Many die. Crandell founded Racing for Recovery, an organization that helps thousands of people overcome addiction through healthy and holistic living — it's an approach that is working where the traditional 12-step programs fail.
Crandell is an addiction counselor (LPCC) (LICDC), Ironman, dad, author, and vegan — a lifestyle he firmly believes helps with sobriety. He can speak as an expert to all addiction-related issues including: the affects of proposed Medicaid budget cuts, pharmaceutical's role in the opioid crisis, the daily escalation of drug tragedies, and solutions on the forefront to ending the opioid epidemic.
For more information and to interview Todd Crandell, please contact Lila Eidi at lila(at)eidicommunications.com or 404-578-0277.