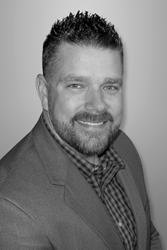 Whitehouse, NJ (PRWEB) June 21, 2017
Delia Associates, an award-winning business branding firm, announced the addition of Jamie Rosen as Director of Art & Design. In his role, Rosen will lead the development of digital, print, video, graphic and interactive experiences for the firm's clients.
"We're delighted to welcome Jamie to the team," commented Ed Delia, President of Delia Associates. "He brings a wonderful attitude, and has immediately proven himself as a thoughtful artist whose work is on brand and on point with our B2B clientele. Jamie has a deep understanding of brand fundamentals, which will help us carry out our mission to be the leading East Coast resource for brand development."
Jamie brings with him an impressive background and proven track record of creative achievement to Delia Associates. Throughout his 15-year career, he has worked with well-known clients such as AT&T, Colgate, PepsiCo, Levi's, as well as a number of global B2B brands. During his time at React2Media and Marketing Dynamics, he held creative roles of increasing leadership and responsibility. Jamie has coordinated creative departments, directed national and global design and production teams, and participated in the launch of many successful integrated marketing campaigns throughout his career. He holds a Bachelor of Fine Arts Degree (BFA) from William Patterson University.
Upon joining Delia Associates, Rosen commented, "Creating great looking work is just one piece of the puzzle. Ensuring that a design captures a brand's personality and intrigues audiences is equally, if not more, important. Delia Associates has a long-standing reputation for creating strong and successful brand strategies for clients representing a wide range of industries. I'm excited to join their team, and look forward to building upon their already excellent reputation as a leading business branding firm."
Outside of his professional career, Jamie enjoys exploring the great outdoors with his wife and two children.
About Delia Associates
Founded in 1964 and based in New Jersey, Delia Associates is a second-generation lead business branding and marketing firm specializing in brand development, website development, content and search marketing. Clients range from global to regional business-to-business organizations in specialty manufacturing, packaging, technology, engineering, energy, pharmaceutical, and industrial services. The firm's proprietary Brand Leadership Solution™, a unique brand-based marketing platform, has helped hundreds of brands establish market distinction, generate increased demand, and achieve rapid growth. For more information, please visit http://www.delianet.com.
For additional press information please contact:
Ilena Della Ventura
Delia Associates
908-534-9044
idellaventura(at)delianet.com
http://www.delianet.com