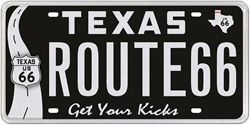 it's time that Texas also provide the iconic Route 66 plate
Austin, TX (PRWEB) June 19, 2017
On November 11, 1926 the famous U.S. Route 66 was established running from Chicago, Illinois through Missouri, Kansas, Oklahoma, Texas, New Mexico, and Arizona before ending at Santa Monica, California. Route 66 was one of the original highways with the U.S. Highway System covering a total of 2,448 miles. It was recognized in popular culture by both the hit song "(Get Your Kicks On) Route 66" and the Route 66 television show in the 1960's.
The route is also known by Will Rogers highway, the Main Street of America or the legendary Mother Road. In 1985, it was officially removed from the U.S. Highway System and is known in many states today as Historic Route 66.
In Texas, US Route 66 extended across the Texas Panhandle running east-west from Texola, Oklahoma to the stateline-straddling Glenrio, sharing New Mexico and Texas roots. Amarillo is the only major city on the Texas portion of US 66. 
Small Texas towns Glenrio, Adrian, Vega, Conway, Groom, Jericho, Alanreed, McLean and Shamrock all once hosted the flow of travelers on the Mother Road as it made its way across the Panhandle. Each still retains certain characteristics of that past. Adrian is the midpoint of Route 66, an equal 1,139 miles towards either the LA or Chicago ends. Shamrock showcases the iconic Conoco Tower Station. Conway has a long seven-mile preserved stretch of still drivable original road. Vega has a surviving court motel still in pristine condition. And Glenrio an entire historic district full of original structures. All are worthy reminders of the glorious past of Route 66. 
Several states including Illinois, Oklahoma, New Mexico and Arizona have already launched dedicated Route 66 plate designs in their respective markets. Now Texas via the state's license plate vendor My Plates, is considering the addition of a Route 66 design.
"This is such an iconic route in the U.S, so it's time that Texas also provide a Route 66 plate as an opportunity for all those travelers, adventurers, desperados and dreamers who have had the chance to experience this historic route, or have been impacted by its lore, to proudly show their support on their bumpers" said Steve Farrar, President of My Plates.
For My Plates to proceed with this design, they wish to reach at least 300 people prepared to register their interest in this design, which is done at http://www.myplates.com/register/route66. Following that, My Plates will then submit a formal application to the TxDMV and if approved, My Plates will then need to achieve 200 pre-orders before the plate can move to production and manufacture.
If approved, the plate will cost $50 for an annual term, background only, or $175.00 for a five-year term (equates to $33 a year). My Plates will dedicate a portion of the proceeds, 10% to the Old Route 66 Association of Texas Fund dedicated to promoting this important part of Texas History.
____________________________________________________________
My Plates designs and markets new specialty license plates as a vendor for the Texas Department of Motor Vehicles. Texans have bought more than 300,000 My Plates since November 2009, putting more than $52M in the state general revenue fund. My Plates' goal is to create a long-term, mutually beneficial relationship designed to maximize revenues for the state through the sale of My Plates specialty plates. http://www.myplates.com.
The Texas Department of Motor Vehicles (TxDMV) serves protects and advances the citizens and industries in the state with quality motor vehicle related services. For every $1 it spends, the TxDMV returns $11 to the state. The agency currently registers 24 million vehicles; issues more than 7 million vehicle titles; licenses more than 38,000 motor vehicle dealers and distributors; credentials nearly 60,000 motor carriers; issues more than 800,000 oversize/overweight permits; investigates more than 15,000 complaints against dealers and motor carriers; and awards grants to law enforcement agencies to reduce vehicle burglaries and thefts. Learn more at http://www.TxDMV.gov.
_________________________________________________________________________________________________________________
For more information, contact Steve Farrar at (512) 633-7978 or steve(at)myplates(dot)com
The hero image of the proposed Route 66 plate can be safely downloaded at the following link or please email steve(at)myplates(dot)com for a jpeg to be emailed:
https://ce9a9387e1bc258c3cfa-af7906f4e771b24864bbfa3048e4a635.ssl.cf2.rackcdn.com/Route66_ROUTE66.jpg